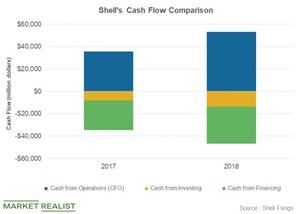 What Prompted Shell's Buybacks
By Maitali Ramkumar

Feb. 15 2019, Updated 9:00 a.m. ET
Shell's cash flow
Last year, Royal Dutch Shell's (RDS.A) cash flow from operations rose 48% to $53.0 billion. The company's cash outflow from investing and financing also rose.
Article continues below advertisement
Did Shell have a cash flow surplus or shortfall?
Last year, Shell generated $53.0 billion in cash from operations but had a capital expenditure cash outflow of $23.0 billion and dividend outflow of $15.7 billion, resulting in $38.7 billion in cash outflow. Including capex and dividends, Shell's cash flow from operations was $14.3 billion. Meanwhile, Suncor Energy (SU) had a cash flow surplus last year, while BP (BP) and Total (TOT) had cash flow shortfalls.
Shell had divestment proceeds of $9.4 billion last year, and used its cash flow surplus, divestment proceeds, and cash reserves to repay debt and repurchase stock. Its cash rose from $20.3 billion at the beginning of the year to $26.7 billion at the end of the year.
Analyzing Shell's cash flow
Last year, Shell had a cash flow surplus, and it partially repaid its debt. It could maintain its surplus with a disciplined cost and capital approach and by focusing on its core competitive assets.
The company's surplus cash flow and higher cash reserves may have motivated the company to buy back stock and share the benefits of higher oil prices, earnings, and cash flow with shareholders.
Shell, which has announced the third tranche of its $25 billion share buyback program, is expected to buy up to ~$2.5 billion in stock by April 29. It repurchased a total of $4.5 billion in the first and second tranches.