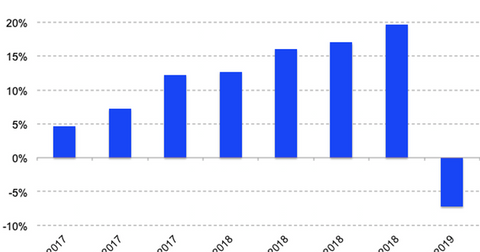 Warren Buffett Says He Hasn't Beaten S&P 500 in Recent Years
By Sanmit Amin

Feb. 28 2019, Published 1:37 p.m. ET
Warren Buffett's Berkshire Hathaway added Apple stock in 2018
Legendary investor Warren Buffett said in an interview with CNBC that he finds it difficult to beat the S&P 500 (SPY). Buffett said that he has had a "tough time" trying to beat the broad index. He also said in a tongue-in-cheek manner that even he does not know how to pick individual stocks. In his recent letter to shareholders, he even mentioned that the index is the best way to invest in stock markets for most people.
Article continues below advertisement
Warren Buffet's Berkshire Hathaway (BRK-B) added hundreds of millions of Apple (AAPL) shares over the course of 2018. Buffett likes Apple because of its immense ecosystem and its brand value. The company has vast financial resources that it can use to drive growth even as its core business slows. Berkshire has a ~5% stake in Apple.
Buffett is bullish on Apple
Warren Buffett invests with a very long-term horizon in mind and on companies that have steady, sustainable earnings. Even though Apple stock plunged in the last quarter of 2018, Buffett remains bullish due to the sustainability of Apple's earnings in the long term.
Apple has consistently innovated and launched products that pioneered every segment it has entered. Apart from Apple, Berkshire has little exposure to the tech sector.
Given his outstanding track record, Buffett is very humble to say that he is finding it difficult to beat the S&P 500. But index investing could indeed be a good way to invest in markets for most, especially for the long term given lower passive investment fees.