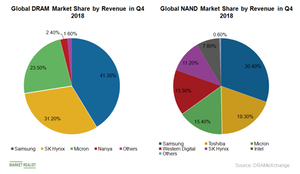 US, China Use Micron-Fujian Jinhua Case to Negotiate IP Protection
By Puja Tayal

Updated
Tech companies involved in the trade negotiations
Previously in this series, we saw that China (FXI) has committed to buying $1.2 trillion of US goods to reduce the US trade deficit. However, there was no commitment on the forced technology transfer and intellectual property protection, which has been harming semiconductor companies. Many semiconductor companies became the target of the US-China trade war. In 2018, Qualcomm (QCOM) NXP Semiconductors' (NXPI) proposed acquisition got caught up in the trade war, which saw Qualcomm walk away from the deal.
Now, memory chip makers Micron Technology (MU) and Fujian Jinhua have come into the crossfire.
Article continues below advertisement
Micron and Fujian Jinhua
Micron and Fujian Jinhua have been fighting an IP theft lawsuit. In 2018, Micron alleged that engineers at the Taiwan-based UMC and China state-backed Fujian Jinhua stole trade secrets about research and development of memory storage devices for their $5.7 billion microchip factory. Fujian Jinhua and UMC denied these allegations.
This business dispute became part of the US-China trade conflict as the United States banned US companies from exporting technology to Fujian Jinhua in October. Fujian Jinhua and UMC also accused Micron of infringing patents, and the Chinese court even banned sales of Micron chips that infringed patents. Micron has denied these charges.
As the United States and China negotiate the trade dispute, they plan to resolve the Micron and Fujian Jinhua issue as part of their negotiation of IP theft, the Financial Times reported, citing people familiar with the trade negotiations. The two parties plan to use the Micron and Fujian Jinhua case to build confidence, which saw Micron's stock rise 2.9% between February 22 and 25, 2019.