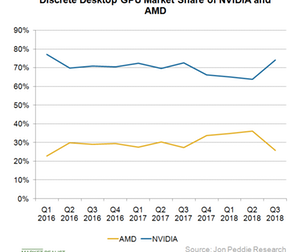 Ups and Downs in AMD's Graphics Business in 2018
By Puja Tayal

Feb. 12 2019, Updated 7:42 a.m. ET
AMD's graphics business
Previously, we learned that Advanced Micro Devices (AMD) had reported strong growth in the computing business as its rival Intel (INTC) was suffering from a CPU (central processing unit) supply shortage.
The situation was the opposite in the GPU (graphics processing unit) market, where AMD and rival NVIDIA (NVDA) suffered from excess channel GPU inventory as crypto miner sales vanished and the market was flooded by secondhand GPUs used by crypto miners during the cryptocurrency boom.
The excess supply and the absence of crypto-related GPU sales reduced AMD's graphics revenue YoY (year-over-year) in the fourth quarter. However, its graphics revenue rose sequentially driven by record sales of its Radeon data center GPUs, which increased its GPU average selling price.
Article continues below advertisement
On the other hand, NVIDIA expects its revenue to fall 24% YoY in the fourth quarter of fiscal 2019 driven by excess GPU inventory, weakness in the data center market, and the slower adoption of its new Turing-based GeForce RTX GPUs. AMD and NVIDIA operate in a duopoly market, where one's gain is the other's loss.
Excess GPU inventory
According to Jon Peddie Research, AMD's discrete GPU market share rose from 27.2% in the third quarter of 2017 to as high as 36.1% in the second quarter of 2018 as crypto miners purchased its GPUs to mine cryptocurrency. However, its market share fell to 25.7% in the third quarter of 2018 as crypto-related sales vanished. Such drastic fluctuations in market share show that AMD's Vega GPU was popular among crypto miners but failed to attract PC gaming enthusiasts.
In the fourth quarter, there was a sudden growth in channel GPU inventory, and because of this, NVIDIA is expected to report its first YoY revenue fall in more than three years in the fourth quarter of fiscal 2019, even after selling off the excess channel inventory of its Pascal-based GeForce GPUs.
AMD's CEO, Lisa Su, stated that it would take more time to sell AMD's excess inventory. Next, we'll look at AMD's outlook for its GPU business.