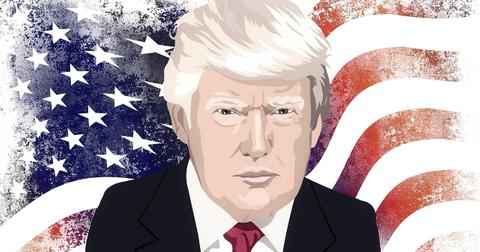 Trump Wants to Make America Great Again with Non-Existent Tech
By Jitendra Parashar

Feb. 21 2019, Published 1:08 p.m. ET
President Donald Trump
President Donald Trump is well known for being on Twitter all the time. Twitter is where the president seems to express any and every idea that comes to mind. Let's take a look at one tweet from earlier today.
Article continues below advertisement
Trump's 6G tweet
This morning, President Trump tweeted, "I want 5G, and even 6G, technology in the United States as soon as possible. It is far more powerful, faster, and smarter than the current standard."
Trump added, "American companies must step up their efforts, or get left behind," and, "We must always be the leader in everything we do, especially when it comes to the very exciting world of technology!"
It makes sense for Trump to say he wants American companies to make 5G technology accessible, but it's important to note that the "6G" technology that he mentioned doesn't even exist right now. Nonetheless, Trump clearly wants the country to remain ahead of other countries on the technology front.
Market focuses on US-China trade deal
Dismal December core retail sales data released last week and weaker-than-expected durable goods orders data have hurt investor sentiment. As a result, the broader market is slightly negative today as investors remain focused on the ongoing US-China trade talks. At 11:53 AM ET, the S&P 500 Index (SPY) and NASDAQ Composite Index (QQQ) were trading with 0.4% and 0.5% losses for the day, respectively.
US companies Apple (AAPL), Alphabet (GOOG), NVIDIA (NVDA), Qualcomm (QCOM), Amazon (AMZN), Facebook (FB), Micron (MU), and Netflix (NFLX) were trading with 0.4%, 1.1%, 0.2%, 0.1%, 0.4%, 1.3%, 0.55, and 0.8% losses, respectively. IBM (IBM), Microsoft (MSFT), Oracle (ORCL), General Electric (GE), AT&T (T), and Advanced Micro Devices (AMD) were up 0.2%, 1.9%, 0.8%, 0.4%, 0.4%, and 1.0%, respectively.
At the same time, Chinese companies Tencent Holdings (TCEHY), Alibaba (BABA), Baidu (BIDU), and JD.com (JD) were down 1.2%, down 0.1%, up 0.5%, and down 1.4%, respectively.