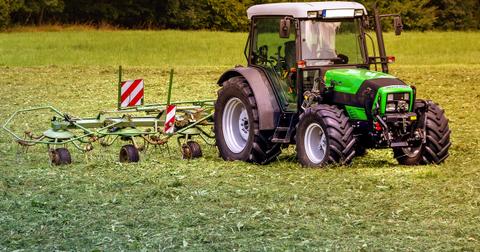 Tractor Supply Stock Fell despite Better-Than-Expected Q4 Results
By Sirisha Bhogaraju

Updated
Better-than-expected Q4 results
Tractor Supply (TSCO) reported better-than-expected results for the fourth quarter of 2018 on January 31. The company's 2018 fourth-quarter sales grew 9.2% to $2.13 billion, beating analysts' expectation of $2.10 billion. The company's top-line growth was driven by same-store sales growth of 5.7% and contribution from new stores.
The same-store sales growth in the fourth quarter was supported by higher average ticket size and increased transaction count. The company experienced strong growth in everyday merchandise in the consumable, usable, and edible categories, as well as in winter and other seasonal products.
Article continues below advertisement
Tractor Supply's adjusted EPS grew 22% to $1.11 in the fourth quarter driven by lower taxes. Analysts expected EPS of $1.09. Despite beating analysts' expectations, Tractor Supply stock declined 4.7% on January 31. Perhaps investors were disappointed with the decline in margins. Tractor Supply stock has risen 2.4% so far this year as of yesterday.
Tractor Supply's gross margin declined 66 basis points to 33.6% in the 2018 fourth quarter due to higher freight costs and an unfavorable mix. Operating margin fell to 8.5% in the 2018 fourth quarter compared to 9.4% in the 2017 fourth quarter. This decline was caused by higher incentive compensation and investments to support growth initiatives.
Overall, Tractor Supply's sales grew 9.0% to $7.91 billion in 2018 with same-store sales growth of 5.1% and adjusted EPS grew 29.4% to $4.31.
Fiscal 2019 guidance                     
Tractor Supply expects its sales to be in the $8.31 billion to $8.46 billion range and same-store sales growth between 2.0% to 4.0% in 2019. The company expects its 2019 EPS to be in the $4.60 to $4.75 range. Tractor Supply intends to continue to improve its performance through its ONETractor strategy by building its omnichannel capabilities and strengthening its supply chain network.
Higher wages, increased depreciation expenses, and growth investments are expected to put pressure on the company's operating margin. Tractor Supply plans to fight cost pressures by driving supply chain efficiencies and store productivity.
Tractor Supply plans to open about 80 Tractor Supply stores and ten to 15 Petsense stores this year. The company opened 80 Tractor Supply stores and 18 Petsense stores in 2018, ending the year with 1,765 Tractor Supply stores and 175 Petsense stores.