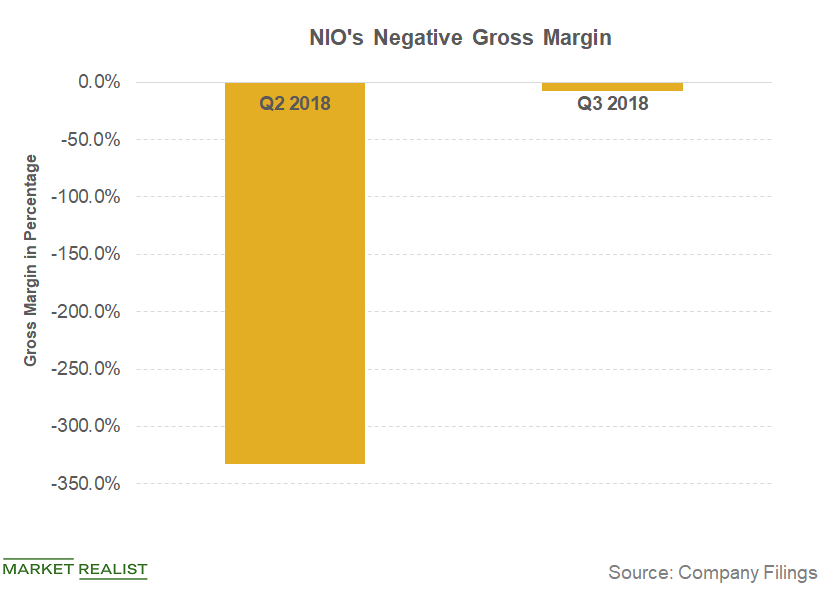 Should Investors Expect a Positive Gross Margin for NIO in Q4?
By Jitendra Parashar

Feb. 25 2019, Updated 10:30 a.m. ET
NIO's fourth-quarter earnings
In the fourth quarter of 2018, NIO (NIO) crushed its vehicle delivery guidance by delivering 7,980 car units to customers, much better than the upper range of its guidance, which was 7,000 units. The strength in its car deliveries could help the company report solid revenue growth in the fourth quarter.
Now, let's discuss what investors should expect from the company's gross margin in the fourth quarter.
Article continues below advertisement
Interestingly, NIO's American competitor Tesla (TSLA) initially struggled for years to ramp up its car production before reporting solid exponential growth in car deliveries in the last three quarters. In the highly capital-intensive automotive industry, it's difficult for new car companies, including NIO and Tesla, to compete with established heavyweights such as General Motors (GM), Ford Motor Company (F), Toyota Motor (TM), and Honda Motor Company (HMC).
Nonetheless, NIO's and Tesla's well-designed cars, which are equipped with advanced technology, are helping them gain market share despite stiff competition from legacy automakers.
What to expect from NIO's gross margin
In the third quarter of 2018, NIO reported a gross earnings fall of ~116 million Chinese yuan (or $16.9 million) compared to its fall of 153 million yuan in the second quarter. With this, the company's third-quarter gross margin was in negative territory at -7.9% compared to -333.1% in the second quarter.
During its third-quarter earnings conference call, Nick Wang, NIO's vice president of finance, said, "We expect gross margin to turn positive in the quarters ahead and as production and deliveries increase." Stronger-than-expected car deliveries are not only likely to boost NIO's revenues, but they could also help the company report some improvement in its gross margins in the fourth quarter.
Note that Chinese tech giants Baidu (BIDU) and Tencent Holdings (TCEHY) have also invested in NIO. In December 2018, Chinese automobile e-commerce company Uxin (UXIN) also announced a partnership with Alibaba Group's (BABA) Taobao.
In the next article, we'll take a look at the recent trends in NIO's valuation multiples.