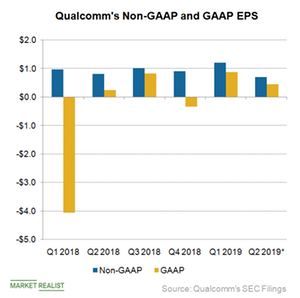 QCOM Looks to Reduce the Gap between GAAP and Non-GAAP Earnings
By Puja Tayal

Feb. 20 2019, Updated 9:01 a.m. ET
GAAP and non-GAAP net income
Qualcomm's (QCOM) operating income fell despite its cost savings as its revenue fell faster than its costs in the first quarter of fiscal 2019. The other way to look at the scenario is to consider that Qualcomm's cost-saving program mitigated the impact of a demand slowdown.
Regulatory headwinds and restructuring created a significant gap between Qualcomm's GAAP (generally accepted accounting principles) and non-GAAP earnings. Its fiscal 2018 GAAP earnings included its fines paid to regulators, its termination fee paid for the failed acquisition of NXP Semiconductors (NXPI), its restructuring charges, and its one-time tax charge of $6 billion.
The above-mentioned expenses resulted in a GAAP net loss of $4.9 billion and non-GAAP net income of $5.4 billion in fiscal 2018. Although Qualcomm stated that these expenses were one-offs, they affected its cash flows.
Article continues below advertisement
Fiscal 2019 first-quarter earnings
Qualcomm is working to settle its regulatory issues to reduce the frequency of such one-off expenses. In the first quarter of fiscal 2019, Qualcomm's GAAP net income rose to $1.1 billion from -$6.0 billion last year, which was affected by a one-time tax charge of $6 billion and a $1.2 billion fine paid to the European Commission. Qualcomm's GAAP EPS improved to $0.87 from -$4.05 a year ago.
On a non-GAAP basis, Qualcomm's fiscal 2019 first-quarter net income rose 2% YoY to $1.5 billion, while its EPS rose 25% YoY to $1.2. Its EPS grew faster than its net income as it started its $30 billion accelerated stock buyback program to compensate investors for its failed NXP acquisition.
Qualcomm's fiscal 2019 first-quarter net income included a GAAP tax benefit of $570 million and a non-GAAP tax benefit of $552 million as the company reclassified some of its foreign subsidiaries as domestic branches of its US business without moving their operations. This reclassification helped the company benefit from the reduction in the US corporate tax from 35% to 21% for domestic companies.
Fiscal 2019 second-quarter guidance
For the second quarter of fiscal 2019, Qualcomm expects its non-GAAP EPS to fall 12.5% YoY to $0.7, whereas it expects its GAAP EPS to rise 87.5% YoY to $0.45. This guidance shows that Qualcomm is succeeding in its attempt to reduce its one-off expenses, which could help it improve its cash flows. We'll look into Qualcomm's cash flows next.