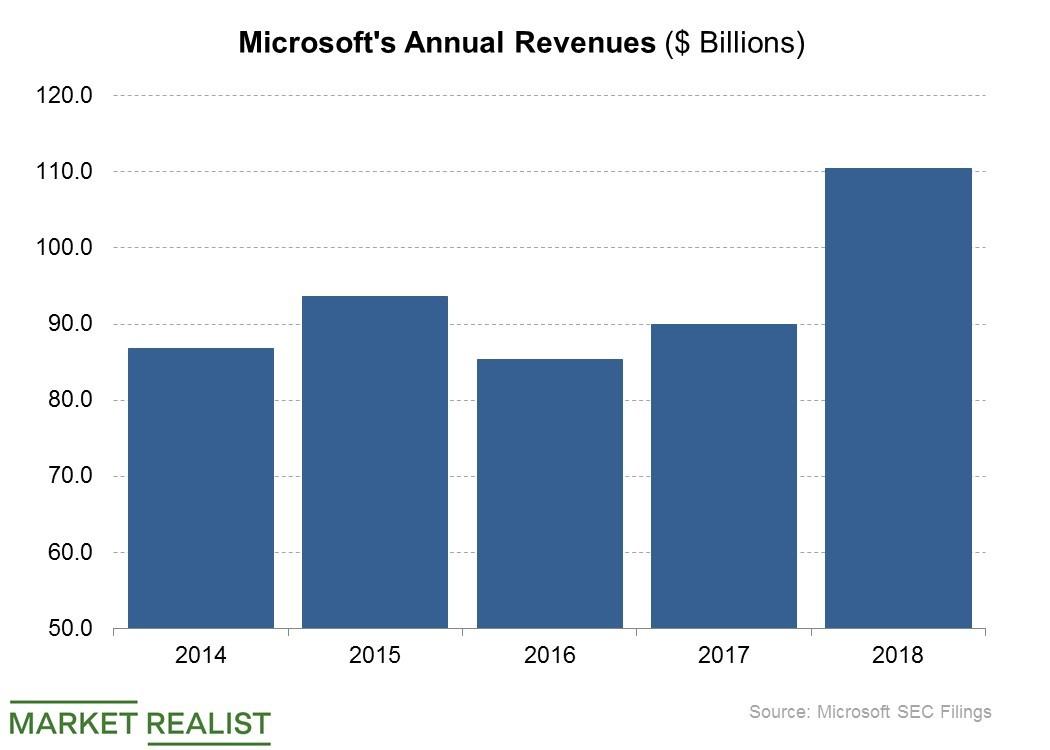 How Microsoft Has Fared with Nadella as CEO
By Ruchi Gupta

Feb. 8 2019, Updated 3:25 p.m. ET
Microsoft stock rose nearly 182% under Nadella
Satya Nadella took over as CEO at Microsoft (MSFT) five years ago. Microsoft stock has risen almost 182% since Nadella took the reins at the company, according to FactSet. Besides the huge gains in its stock under Nadella's leadership, Microsoft has also been reporting increasing annual revenues in the last three years. In the company's fiscal 2018, which ended in June, it generated record revenue of $110.4 billion.
Nadella took over at a time when Microsoft was reeling from its costly failed bet on Nokia's (NOK) phone-making business.
Article continues below advertisement
Focus on cloud computing
Under Nadella, Microsoft has sought to reinvent itself with a huge focus on cloud computing, a sector that presents tremendous growth opportunity. According to Gartner estimates, $175.8 billion was spent on public cloud services worldwide in 2018, and that amount is set to grow to $278.3 billion by 2021.
Microsoft's cloud revenue rose 76% YoY (year-over-year) in the December quarter, outpacing the 45% YoY cloud revenue growth at Amazon (AMZN) in the same period. Revenue rose 30% YoY in the December quarter in the unit that houses Google's (GOOGL) cloud business. Cloud revenue fell 3.0% YoY at IBM (IBM) in the third quarter.
Capitalizing on fear of Amazon
In the pursuit of cloud dollars, under Nadella, Microsoft has looked to capitalize on the fear of Amazon. Traditional retailers such as Walmart (WMT) have avoided hosting their data or running their workloads on Amazon's cloud, instead preferring to work with Amazon's competitors. 
The fear of Amazon also spread to the drugstore industry after the company bought online pharmacy startup PillPack last year. Walgreens (WBA), one of the drugstore operators at risk of being disrupted by Amazon's move into the pharmacy market, recently signed up to use Microsoft's cloud.