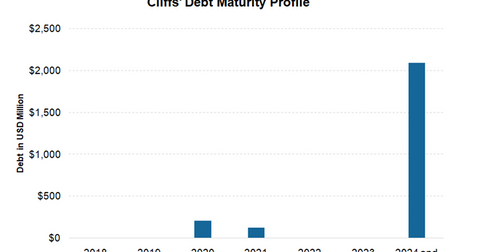 How Does Wall Street Expect CLF's Net Debt to Progress?
By Anuradha Garg

Updated
Financial leverage
Cleveland-Cliffs (CLF) has come a long way with respect to its debt levels. Its debt spiraled due to acquisitions at the peak of the cycle. 
The company's change in management in 2014 and its focus on debt reduction have somewhat allayed investors' concerns.
Article continues below advertisement
Net debt: A moving target
During the company's third-quarter earnings call, CEO Lourenco Goncalves maintained that the company's second priority was to bring its net debt below $1.0 billion. Its first priority was to focus on its hot-briquetted iron plant. Goncalves added that CLF's net debt is a moving target, as it could vary with the EBITDA generated by the company.
Goncalves maintained that $1.0 billion worth of net debt is important when a company is generating $450.0 million–$500.0 million in EBITDA. He noted that this level of net debt wouldn't be representative of CLF's needs when it starts generating $800.0 million–$900.0 million worth of EBITDA.
Liquidity position is comfortable
Cleveland-Cliffs's maturity profile has also improved significantly. Most of its debt has either been retired or pushed back an additional five years with lower interest rates.
As per the consensus estimates compiled by Thomson Reuters, the company's net debt is expected to fall 2.3% in 2018 compared to 2017.
Net debt-to-forward EBITDA
A company's net debt-to-forward EBITDA ratio reflects the number of years it would take the company to completely pay off its debt with only its EBITDA.
Cleveland-Cliffs has improved both its EBITDA and its debt, significantly improving its net debt-to-forward EBITDA ratio. As per analysts' consensus estimate, CLF's ratio should improve to 1.6x by the end of 2018 compared to 2.5x at the end of 2017 and 5.20x at the end of 2016.
Other US (DIA) (VTI) steel companies (SLX) with high financial leverages, including ArcelorMittal (MT), AK Steel (AKS), and U.S. Steel Corporation (X), have also made successful efforts to reduce their debt.