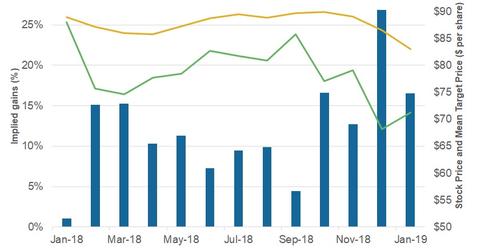 ExxonMobil Has the Lowest Implied Gains among Peers
By Maitali Ramkumar

Feb. 4 2019, Published 8:14 a.m. ET
ExxonMobil's implied gains
In the previous part, we looked at Chevron (CVX), which has the second lowest implied gains of 23% based on Wall Street analysts' mean target price. Now we'll review the stock expected to post the lowest implied gains, ExxonMobil (XOM).
ExxonMobil is an American integrated energy company with upstream, downstream, and chemicals segments. The stock ranks sixth with 16% implied gains based on its target price. The stock has fallen by 19% in the past year led by a sharp fall in the fourth quarter. Further, in the past year, Wall Street analysts' mean target price on ExxonMobil stock has fallen by 7% to $82.9. ExxonMobil is the only stock to witness a decline in its mean target price in the past year.
Article continues below advertisement
ExxonMobil's earnings expectation for 2019
In 2019, Wall Street analysts expect ExxonMobil's earnings to fall marginally by 5%, which could be due to lower upstream realizations. Crude oil prices have fallen sharply in the past few months. In the last quarter of 2018, oil prices fell by 40%, which resulted in most analysts revising their oil estimate downward for 2019.
However, ExxonMobil has a robust upstream portfolio, which is expected to drive long-term growth for the company. ExxonMobil has a strong projects pipeline. The company's key projects are expected to be operational by 2025 and are slated to account for around 50% of ExxonMobil's upstream earnings. Thus it's no surprise that ExxonMobil expects its upstream earnings to triple by 2025, assuming oil prices of $60 per barrel.
Further, ExxonMobil has an advantageous downstream portfolio with a robust project pipeline. Thus, the company has a fully integrated model, which could optimize the value out of every molecule processed in its supply chain.
Thus, with a healthy upstream portfolio, a surge in oil prices could result in a rise in total earnings for ExxonMobil in 2019.