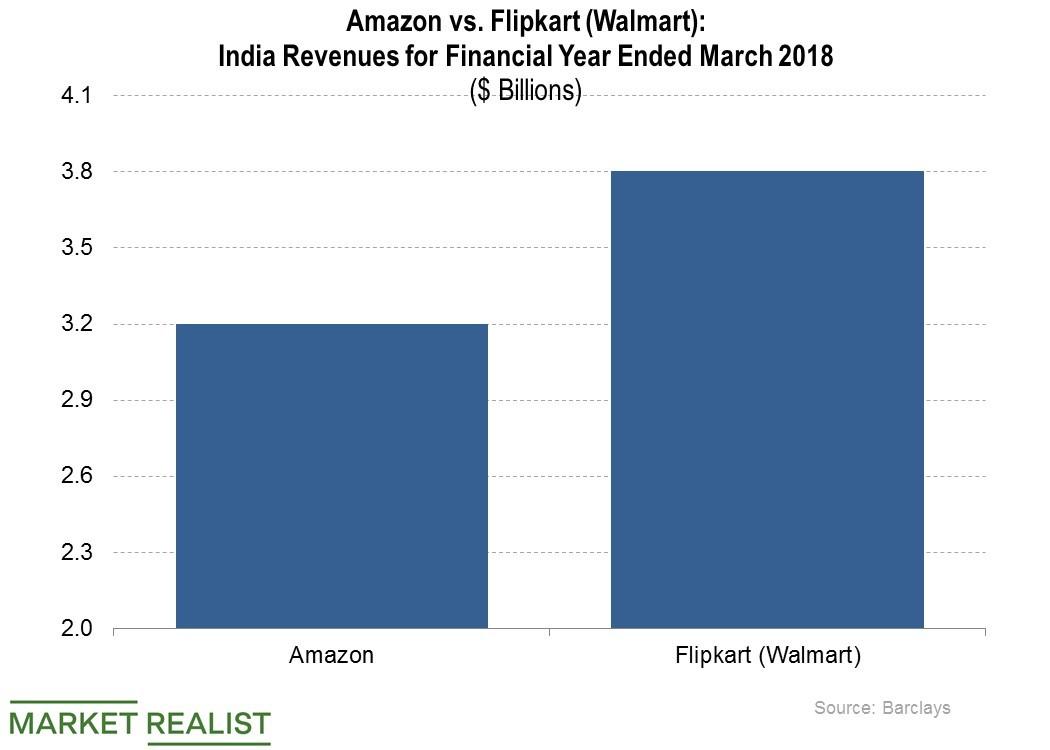 Exploring Amazon's India Maneuver
By Neha Gupta

Feb. 13 2019, Updated 9:01 a.m. ET
Amazon sells its stakes in joint venture companies
On February 1, new e-commerce regulations took effect in India. Just like that, thousands of product listings disappeared from Amazon's (AMZN) marketplace in India, resulting in a limited product selection for shoppers. Flipkart suffered a similar impact. The new regulations prohibit foreign e-commerce companies such as Amazon from selling products from subsidiaries of companies in which they own a stake. The change caused the removal of certain product listings from Amazon's marketplace in India to comply with the country's new regulations.
Article continues below advertisement
Amazon was able to restore many of those products within a few days after some work-arounds. The company decided to cut its stakes in joint venture companies whose subsidiaries sold on its marketplace, Bloomberg reported. The changes made it compliant with the new regulations and paved the way for the return of the previously removed products.
Amazon India generated $3.2 billion in revenue
Flipkart is also reviewing its supply chain as it works to bring back the products that were removed from its marketplace because of India's new regulations, according to a report from the Wall Street Journal.
Amazon and Flipkart are two of the top e-commerce companies in India. A report from Barclays cited by the Economic Times shows that Amazon's Indian unit generated $3.2 billion in revenue compared to $3.8 billion for Flipkart in the financial year that ended in March 2018.
Flipkart is controlled by Walmart (WMT), which last year invested $16 billion in the purchase of a majority stake of 77% in the business. The transaction saw Walmart buy out other Flipkart investors, including eBay (EBAY). In 2017, eBay sold its Indian operations to Flipkart and teamed up with Tencent (TCEHY) and Microsoft (MSFT) to invest $1.4 billion in the business.