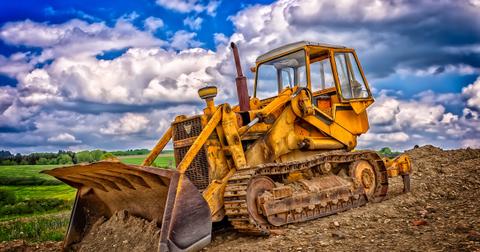 Does UBS's Caterpillar Downgrade Signal an Economic Slowdown?
By Jitendra Parashar

Updated
Caterpillar stock
Today, American industrial giant Caterpillar's (CAT) stock was trading on a negative note in the premarket session. At 9:10 AM ET, the stock was down 3.4%. So far in 2019, the stock has traded on a positive note. As of February 25, CAT was up 11.3% year-to-date against the S&P 500 benchmark's and Dow Jones Industrial Average's 11.5% and 11.9% gains, respectively. Let's take a look at the key factor that could be hurting Caterpillar investors' sentiment today.
Article continues below advertisement
UBS downgrades Caterpillar
Earlier today, UBS shocked Caterpillar investors with a double downgrade of its stock. According to a recent CNBC report, UBS downgraded Caterpillar directly to "sell" from its earlier "buy" recommendation. UBS now has a price target of $125 for CAT stock for the next 12 months, which reflects a downside potential of 11.6% from yesterday's closing price of $141.41.
A sign of a big economic slowdown?
More than UBS's double downgrade of Caterpillar, the reason for the downgrade could be worrisome for investors. In a note, UBS analyst Steven Fisher said, "We believe 55 percent of CAT's end markets will peak in 2019, pressuring revenue and margins in 2020 as demand declines." Fisher believes that "continued growth in mining and buybacks will not be enough to offset headwinds in construction and oil & gas."
This double downgrade comes as UBS expects a sharp decline in construction sales, which could suggest an economic slowdown ahead. In the note, Fisher added, "We forecast an 8 percent decline in [construction] sales (consensus ~flat) and ~100bps of margin compression in 2020 (consensus -30bps) driven by lower demand in NA, China, & EMEA."
In the last few months, economic data have fueled investors' (SPY) concerns about slowing global economic growth. Now, UBS's weak outlook on construction sales could be another major factor to hurt investors sentiments.
As of February 25, other US companies Deere & Company (DE), Stanley Black & Decker (SWK), Illinois Tool Works (ITW), General Electric (GE), and Boeing (BA) have gone up 10.5%, 14.7%, 14.5%, 32.9%, and 32.4%.