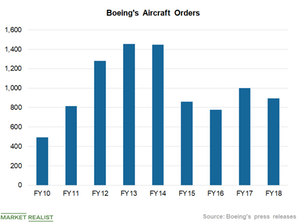 Boeing Partnered with Aerion to Help Fly the AS2 Supersonic Jet
By Anirudha Bhagat

Updated
Investment in supersonic jets
The Boeing Company (BA) announced yesterday that it had entered into a partnership agreement with supersonic jet startup Aerion. The aerospace giant revealed on February 5 that it would provide financial, engineering, manufacturing, and industrial resources to Nevada-based Aerion to make supersonic travel a reality.
Boeing revealed yesterday that it had made a significant investment in the supersonic jet startup to accelerate the pace of the technological development and design of its aircraft. However, neither company disclosed the financial terms of the deal.
Article continues below advertisement
Apart from financial assistance, Boeing will also provide manufacturing, engineering, and flight test resources to Aerion to fly the AS2 prototype supersonic jet by 2023. The 12-seater AS2 aircraft is designed to fly up to Mach 1.4, or 1.4 times the speed of sound, which is ~70% faster than the current speed of business jets.
The latest partnership between the two companies replaces an earlier agreement between Aerion and Lockheed Martin (LMT), which had been working on the AS2's design and production. Earlier, Aerion had entered into a two-year partnership with Boeing's rival Airbus. This contract ended in December 2017. Lockheed Martin became Airbus's replacement.
Industrial conglomerate (XLI) General Electric's (GE) Aviation business unit is designing the AS2's engine, while Honeywell International (HON) is working on developing its advanced cockpit systems.
Boeing broadens aviation scope
With the latest partnership agreement with Aerion, Boeing is now going to be a part of the futuristic aviation market. The new age of travel demands less time for commuting from one place to another. We'll have to wait to see how quickly Boeing and Aerion can make supersonic travel commercially available to passengers.
Vice president and general manager of Boeing NeXt, Steve Nordlund, said, "This is a strategic and disciplined leading-edge investment in further maturing supersonic technology. Through this partnership that combines Aerion's supersonic expertise with Boeing's global industrial scale and commercial aviation experience, we have the right team to build the future of sustainable supersonic flight."