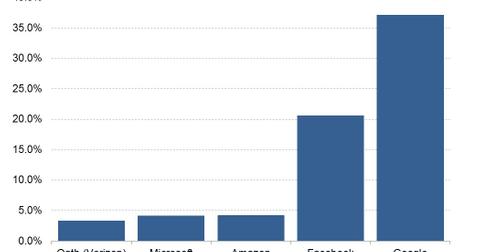 Amazon Adopts New Strategy in Pursuit of Ad Dollars
By Neha Gupta

Updated
Amazon sends free product samples to customers
Amazon (AMZN) is quietly piloting a new advertising program that involves letting brands send free samples of new products to its customers, according to a report from Axios. Amazon selects recipients of such samples based on their shopping history on its marketplace. Amazon has in recent years emerged as a big threat to Google (GOOGL) and Facebook (FB) in the pursuit of digital advertising dollars thanks to its huge audience and extensive data on people's shopping habits.
Article continues below advertisement
Amazon giving Facebook and Google a run for their money
In 2018, Amazon captured 4.2% of all digital advertising dollars in the United States compared to 20.6% for Facebook and 37.1% for Google, according to eMarketer estimates. Microsoft (MSFT) and Verizon (VZ) captured 4.1% and 3.3%, respectively, of the digital advertising dollars in the United States in 2018. By the end of 2020, Amazon's share of the digital advertising market in the United States is forecast to grow to 7.0%, while Google's share of the market is forecast to shrink to 35.1%.
Amazon trying what competitors would struggle to replicate
The strategy of sending samples to customers to introduce them to new products could give Amazon a huge advantage in the chase for advertising dollars considering that this is a strategy that its main competitors Facebook and Google would struggle to replicate. Amazon's sample advertising strategy could particularly appeal to consumer-packaged goods companies, which are typically some of the biggest spenders on advertising.