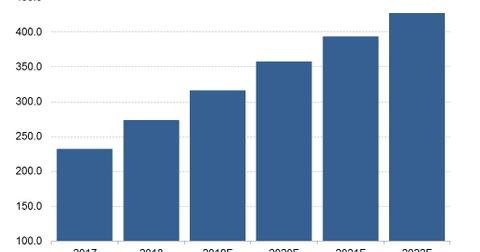 Alibaba Pursues Lucrative Advertising Market
By Neha Gupta

Updated
Advertising accounts for 42% of revenue
Alibaba (BABA) doesn't break out its advertising revenue, but advertising is a big business for Alibaba. If eMarketer's estimate that Alibaba generated $21.8 billion in advertising revenue in 2018 is accurate, then that would mean that the advertising business accounted for more than 42% of total revenue at Alibaba in the 12-month period ended December 2018.
In the past year, Alibaba has bought a stake in digital advertising firm Focus Media, as Reuters reported, and was also said to be looking to buy a stake in global advertising giant WPP (WPP), all in an effort to increase its exposure to the multibillion-dollar advertising industry.
Article continues below advertisement
Diversifying revenue sources
For Alibaba, advertising checks many boxes. First, the advertising industry presents an enormous growth opportunity. Worldwide spending on digital ads is forecast to exceed $427 billion by 2022, up from $232 billion in 2017, according to data from eMarketer. Second, the advertising business provides another avenue for Alibaba to diversify its revenue sources.
Many Internet companies are seeking to diversify outside the primary industries both to escape crowded markets and capitalize on new opportunities developing elsewhere. Besides advertising, Alibaba's quest for diversification has prompted it to venture into media and cloud computing markets. Amazon (AMZN), also seeking to diversify its business, has dominated the cloud computing market, according to data from Synergy Research.
In an effort to diversify outside their primary advertising industry, Baidu (BIDU) and Alphabet (GOOGL) have ventured into building self-driving systems and making a range of hardware products including smart speakers.