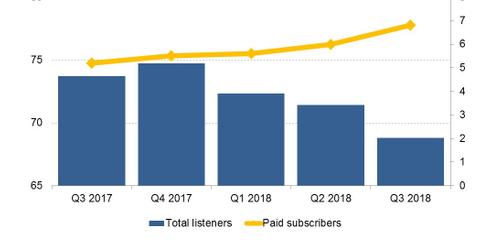 Will Pandora Shareholders Back Sale to Sirius?
By Ruchi Gupta

Jan. 17 2019, Updated 11:30 a.m. ET
Shareholder vote scheduled
Pandora (P) is scheduled to hold a special stakeholder meeting on January 29. The purpose of the meeting is primarily to allow shareholders to vote on certain matters in connection with the proposed takeover of Pandora by Sirius XM (SIRI), a subscription radio provider.
In September last year, Pandora announced that it had entered an agreement to be acquired by Sirius in an all-stock transaction valued at $3.5 billion. Pandora's board endorsed the idea of selling the company to Sirius and has recommended that shareholders back the deal. Pandora shareholders are expected to have their say on the deal in the coming days. Pandora and Sirius expect to close their transaction this quarter.
Article continues below advertisement
Pandora's potential new owner reports subscriber growth
As we wait for the outcome of Pandora shareholders' vote in the proposed merger with Sirius, we note that Sirius recently announced exceeding its subscriber acquisition target in the fourth quarter of 2018, saying it now serves 28.9 million self-pay subscribers. Sirius is expected to release its detailed report for the fourth quarter on January 30.
Pandora's revenue jumped 16%
Pandora closed the third quarter of 2018 with 68.8 million listeners in total, with 6.8 million being paying subscribers. The company generated $417.6 million in revenue in the third quarter, which consisted of $125.8 million in subscription revenue. Pandora's revenue rose 16% YoY in the third quarter compared to a 31% YoY revenue increase for Spotify (SPOT) in the same period. Facebook (FB), Amazon (AMZN), and Alphabet (GOOGL) grew their third-quarter revenues by 33%, 29%, and 21% YoY, respectively.