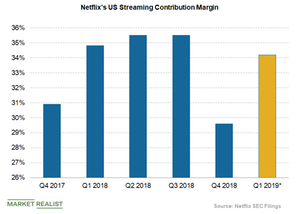 Why Is Netflix Anticipating Soft US Subscriber Growth?
By Sophia Nicholson

Jan. 22 2019, Published 2:15 p.m. ET
Netflix's streaming growth in the US
Netflix (NFLX) has been witnessing sluggish growth in paid subscriber additions in the United States (SPY) as compared to the increase in paying international subscribers. Though Netflix's US paid subscriber additions of 1.53 million surpassed the analysts' estimates of 1.4 million in the fourth quarter of 2018, the numbers are soft for the next quarter.
For Q1 2019, the company expects 1.6 million paid subscriber additions in the US, lower than the Wall Street expectations of 1.86 million subscriber additions. Stiff competition in the streaming industry and the recent price hike for US members is probably the reason for the weak subscriber growth expected in the US.
Article continues below advertisement
Netflix's streaming membership growth in the US
At the end of Q4 2018, domestic streaming paid subscribers were ~58.49 million, up 10.8% YoY and up 2.7% sequentially. Total paying subscribers were ~139.3 million globally. The company expects its total paid subscriber base to reach ~148.2 million at the end of the first quarter.
The company posted a domestic streaming revenue of ~$2.0 billion in the quarter, around 22.5% higher from the year-ago quarter and about 3% higher than the previous quarter. The US streaming contribution margin was 29.6% in the fourth quarter, lower than the company's forecast of a contribution margin of 33.2%. The fourth quarter's margin was also lower than the year-ago quarter's contribution margin as well as the preceding quarter's margin of 30.9% and 35.5%, respectively. Plus, Netflix expects the US contribution margin at 34.2% in the next quarter.
Netflix's US contribution margin has been declining, as the company expects to invest in faster-growing international markets relative to the US. Further, intense competition from other streaming giants is also likely to weigh down Netflix.
Intense competition from Amazon Prime, HBO Now, Hulu, Apple and Alphabet's YouTube has stepped up competition for Netflix. Walt Disney (DIS) is also launching its direct-to-consumer streaming service in 2019 and cutting ties with Netflix. AT&T's (T) WarnerMedia and Comcast's (CMCSA) NBCUniversal are also planning to launch their video streaming service to dent Netflix's dominance in the streaming market.