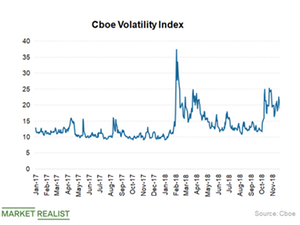 What Supports J.P. Morgan's Bullish Stance on SPY?
By Anuradha Garg

Jan. 14 2019, Updated 4:15 p.m. ET
J.P. Morgan is bullish on SPY
J.P. Morgan (JPM) has one of the most bullish views on Wall Street about the stock market outlook in 2019. J.P. Morgan's US equity market strategist, Dubravko Lakos-Bujas has a target of 3,100 for the S&P 500 (SPY) for 2019. According to J.P. Morgan, there's more upside for US stocks (QQQ) (VOO) as earnings stay positive. Lakos-Bujas said, "While earnings are expected to decelerate relative to 2018, they should still remain positive and continue to grow according to J.P. Morgan forecasts." He added, "Based on our probability-weighted analysis of U.S.-China trade outcomes (55% trade deal, 35% cease-fire, 10% tariff escalation), we set our 2019 S&P 500 price target to 3,100 and earnings per share (or EPS) estimate at $178."
J.P. Morgan lists Facebook (FB), Apple (AAPL), and Twitter (TWTR) as its top-three tech picks for 2019.
Article continues below advertisement
J.P. Morgan expects three hikes
Another important point to note here is that J.P. Morgan expects three hikes from the Fed as its base case scenario. The number is higher compared to the Fed's own signal in December of two more hikes in 2019. Fed Chair Jerome Powell's two recent back-to-back appearances have confirmed that there won't be any surprises on the rate front. The Fed will likely remain dovish in the absence of significant inflation (TIP) acceleration.
Earnings and profit growth to slow
J.P. Morgan acknowledged that the pace of the earnings and profit growth from 2018 probably won't continue in 2019. J.P. Morgan thinks that the risks to earnings lie in profit margins and trade. J.P. Morgan sees trade as a less quantifiable risk and thinks that "an escalating trade war with China could have a significant direct impact on S&P 500 profits, and could have further indirect costs depending on the extent of Chinese retaliation and the dampening impact of the turmoil on business confidence and the global economy."