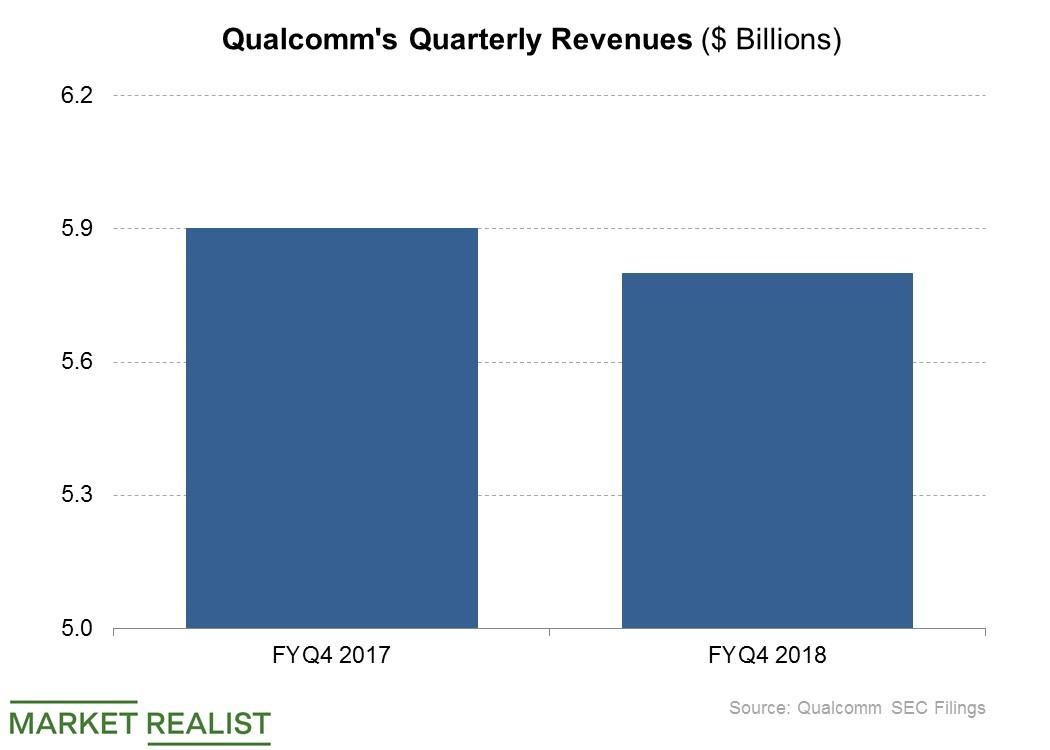 What Qualcomm and Apple Said at Federal Trade Commission Trial
By Ruchi Gupta

Jan. 23 2019, Updated 9:40 a.m. ET
Qualcomm paid $1.0 billion to win Apple business
Qualcomm (QCOM) and Apple executives were called to testify in the trial of an antitrust case brought up by the United States Federal Trade Commission (or FTC) against Qualcomm. In 2017, the FTC sued Qualcomm, accusing the company of anticompetitive business practices, which Qualcomm denies.
In his testimony, Qualcomm CEO Steve Mollenkopf said that Apple asked Qualcomm to pay $1.0 billion for the rights to supply modem chips for the iPhone, Reuters reported. As a result, Qualcomm sought an exclusive arrangement that made it the sole supplier of iPhone modem chips. According to Qualcomm, it sought exclusivity with Apple not to lock out other suppliers but to ensure that it would recover the $1.0 billion investment it made to win the business.
Article continues below advertisement
Apple says Qualcomm refused to supply chips
Apple chief operating officer Jeff Williams accused Qualcomm of refusing to supply the company with modem chips for the latest iPhones that were released in September and October last year, Bloomberg reported. Without Qualcomm chips, Apple says it was forced to seek an alternative supplier and ended up using Intel-made (INTC) chips exclusively in those devices.
Qualcomm's revenue declined 2.0%
Qualcomm generated $5.8 billion in revenue, representing a decline of 2.0% YoY in its fourth quarter of 2018, which ended in September of that year. Intel, NXP Semiconductors (NXPI), and Advanced Micro Devices (AMD) grew their revenues by 18.7%, 2.4%, and 4.4% YoY, respectively, in that quarter. Revenue rose 21% YoY for NVIDIA (NVDA) in the fourth quarter of fiscal 2019, which ended in October last year. Qualcomm is expected to report its results for the first quarter of 2019 on January 30, and the consensus estimate calls for revenue of $4.9 billion compared to $6.1 billion a year ago.