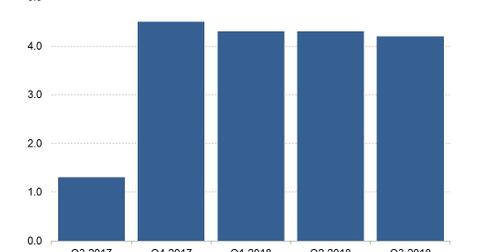 The Numbers Support Amazon's Physical Store Push
By Ruchi Gupta

Updated
Amazon's physical store sales soared 250%
As the Wall Street Journal recently reported, Amazon (AMZN) is planning to open more Whole Foods stores across the United States in a move that will expand its physical store network.
Amazon is considering widening its physical store network at a time when its physical store sales are exploding. In the third quarter of 2018, its most recently reported period, Amazon's physical store sales soared 250% YoY (year-over-year). In contrast, the company's online store sales rose just 10% YoY in the period.
At $4.2 billion in the third quarter, physical store sales still make up just a tiny part of Amazon's retail business. With more stores, though, Amazon could capture more retail dollars, particularly in the grocery market, which is currently dominated by traditional retailers.
Article continues below advertisement
Amazon is chasing grocery dollars
According to data from Cowen cited by the Wall Street Journal, Amazon captured just 3.2% of US grocery spending through its Whole Foods subsidiary in 2017. In comparison, Walmart (WMT) captured a 21% market share, Kroger (KR) captured an 11.4% share, and Costco (COST) captured a 6.4% share. However, Whole Foods' sales have increased since Amazon took over in 2017, and the business could do better with more outlets, as it now allows customers to order online and pick up in store.
In addition to Whole Foods, Amazon operates physical stores under the Amazon Go and Amazon 4-star brands. Amazon 4-star stores stock top-rated items based on the reviews of Amazon's online customers. Alibaba (BABA) operates a supermarket chain under the Hema Supermarkets brand.