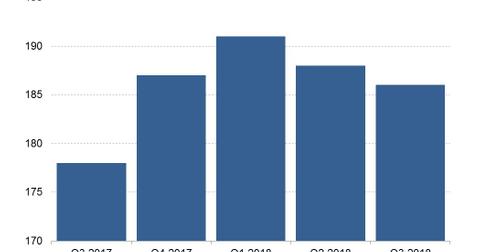 Snap's Shrinking Audience Puts Investors on Edge
By Neha Gupta

Updated
Snapchat struggling to grow user base
Snap's (SNAP) Snapchat has been losing users in recent quarters, undermining the company's campaigns to capture more digital advertising dollars. Snapchat closed the third quarter of 2018 with 186 million daily active users globally, representing a decline of about 2.0 million users. In the second quarter, Snapchat shed about 3.0 million users and closed the quarter with 188 million users worldwide.
An unpopular Snapchat app redesign unveiled early last year and stiff competition from Twitter (TWTR) and Facebook (FB) apps such as Instagram have made it difficult for Snapchat to grow its audience.
Article continues below advertisement
Shrinking audience complicates chase for advertising dollars
For a company that depends on advertising expenditures like Snap, the audience size matters a lot. Facebook, which captured $13.5 billion in advertising revenue in the third quarter, boasts about 1.5 billion DAUs, much more than Snapchat's audience. Therefore, a shrinking audience size puts Snap at a disadvantage in the chase for revenue in the digital advertising market.
Investors take notice of the struggle
Snap's struggle to grow Snapchat's audience has caught the attention of investors, who have signaled their worry about the company's future amid a shrinking audience size. Snap shares were down 58% for the past year as of January 23. In contrast, Facebook, Yelp (YELP), and Alphabet (GOOGL) shares were down 22%, 18%, and 7.0% for the past year as of January 23. Twitter shares were up 33% for the past year as of January 23.