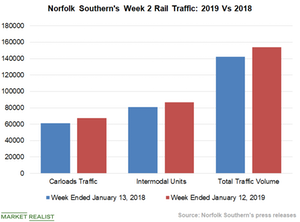 Norfolk Southern's Rail Traffic Uptrend Continued in Week 2
By Anirudha Bhagat

Jan. 21 2019, Updated 9:00 a.m. ET
Rail traffic volumes
Norfolk Southern (NSC) reported an 8.3% YoY increase in its rail traffic volumes in Week 2 driven primarily by robust growth in carloads and intermodal units. 
The Eastern US railroad company hauled 154,028 total units compared to 142,158 units in the same week of the previous year.
Moreover, Norfolk Southern's rail traffic growth in Week 2 was slightly lower than the overall 8.4% gain registered by US railroad companies (XTN). The company ranked fourth among Class I railroad companies in terms of volume growth. Canadian National Railway (CNI) was the highest traffic volume gainer in the week with an increase of 12.2%.
Article continues below advertisement
Carloads increased
In Week 2, Norfolk Southern's carload traffic grew for the fifth consecutive week. During the week, the Eastern US railroad company's carload traffic rose 9.9% YoY to 67,463 railcars compared to 61,358 in Week 2 of 2018. The company was in third place in terms of its carload traffic growth after CSX (CSX) and Canadian National Railway.
Commodities excluding coal and coke accounted for 70% of Norfolk Southern's Week 2 total carload traffic. Its coal and coke traffic carloads contributed 30% to its total carloads. Traffic of commodities excluding coal and coke increased 3.5% YoY to 47,207 units from 45,595 units. Coal and coke volumes rose 28.5% YoY to 20,256 units in the week from 15,763 units.
Commodities excluding coal and coke that experienced notable volume growth in the second week included grain, chemicals, metals, petroleum products, and nonmetallic minerals. Commodities that recorded YoY falls in Week 2 volumes were food and kindred products, motor vehicles and equipment, forest products, and iron and steel scrap.
Intermodal volumes
Norfolk Southern's intermodal traffic grew 7.1% YoY in Week 2 to 86,565 containers and trailers compared to 80,800 units in the previous year. The company's container traffic expanded 7.3% YoY to 77,973 units from 72,671 units. Moreover, its trailer volumes increased 5.7% YoY to 8,592 units from 8,129 units in Week 2 of 2018.
All Class I railroad companies registered YoY improvements in their intermodal unit volumes except Kansas City Southern (KSU), which reported a 9.2% YoY decline.
Next, we'll discuss Union Pacific's rail traffic trends.