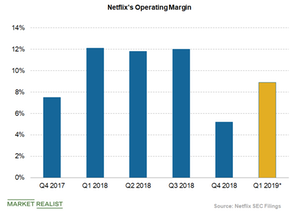 Netflix's Growing Investment in Content Is Denting Its Margins
By Sophia Nicholson

Jan. 23 2019, Published 2:38 p.m. ET
Netflix's EBITDA
Netflix (NFLX) posted EBITDA of $328 million in the fourth quarter. EBITDA jumped nearly 4.8% from the prior-year quarter of $313 million but was down 43.8% from the sequential quarter, as the graph below shows.
Article continues below advertisement
Operating margins
Netflix's operating margin contracted 230 basis points on a YoY basis to 5.2% in the fourth quarter though the company anticipated a lower margin of 4.9%. Operating margin was lower than the preceding quarter's operating margin of 12.0%.
Lower operating margin was due to the launch of many titles as well as many productions of original shows and films in Q4. The company spent more on content acquisition, especially in international markets, to grow its subscriber base. As a result, Netflix's content acquisition costs hurt its EBITDA and margins.
The company expects to consistently invest in content as well as boost its revenues to grow its operating margin. For the first quarter, the company targets an operating margin at 8.9%, down from 12.1% in the prior-year quarter. For 2019, the company expects its operating margin to be 13% in comparison to 10% in 2018.
Article continues below advertisement
Netflix focuses on international markets
The company also wants to expand in the international markets including India (INDA), Mexico, Spain, Italy, Germany, Brazil (EWZ), France, Turkey, and throughout the Middle East. Netflix's Spanish original Elite, its original Italian series Bodyguard and Baby, as well as its Turkish original series Protector gained immense popularity worldwide in the first four weeks. The company is planning to double its investment in France by producing 14 local shows in late September.
The company believes that India has high growth potential, as it is the world's second-most populous country, and its population is gradually shifting towards digitalization. India is already one of the biggest markets for Alphabet's (GOOGL) YouTube, and Amazon (AMZN) is also making efforts to grab the Indian audience with its Prime Video.