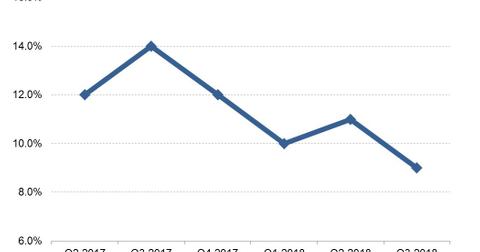 Is Citron Right about Twitter?
By Neha Gupta

Updated
Twitter price target lowered to $20
Twitter (TWTR) stock is currently trading in the $33 range. But it may not take long before the share price tumbles to $20, according to the latest note from notorious short-seller Citron Research.
Back in March, Citron set a price target of $25 on Twitter stock, saying at the time that the company's data licensing business was at risk in the face of data privacy scandals that swirled around Facebook (FB). Now Citron has reduced its price target on Twitter to $20, citing the risk of advertisers fleeing after Amnesty International released a report that claimed that abuse against women is rife on Twitter.
Article continues below advertisement
Twitter on platform clean-up
Twitter has been tackling the problem of abuse on its platform. Last year, the New York Times reported that the company had initiated a cleanup exercise to remove millions of problematic accounts. In addition to removing accounts that could be used to harass or abuse other users, Twitter has also sought to make it easier for its users to report bad actors for action. At the end of the day, Twitter hopes to make its social network more attractive to users and advertisers.
Twitter's daily users increased 9%
Twitter doesn't disclose the exact size of its daily audience, but it reported a 9.0% YoY increase in its daily user base in the third quarter of 2018. Facebook and Snapchat (SNAP) closed the third quarter with 1.5 billion and 186 million daily active users, respectively. Twitter also doesn't disclose the size of its advertiser base, but Facebook, Baidu (BIDU), and Yelp (YELP) exited the third quarter with more than 6.0 million, 522,000, and 194,000 active advertisers, respectively.