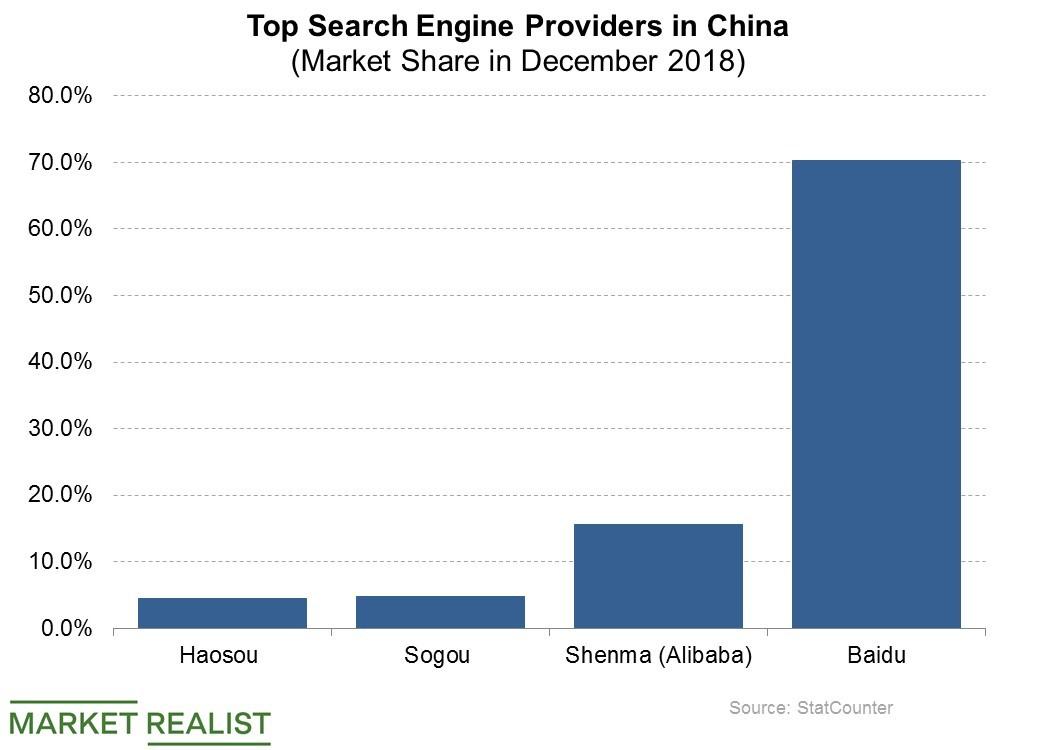 Is Baidu Out of Google Danger?
By Neha Gupta

Jan. 30 2019, Updated 10:30 a.m. ET
Google says China search engine not in the plan
Alphabet's (GOOGL) Google has no plans to re-enter mainland China's Internet search engine market, the company's chief executive, Sundar Pichai, told American lawmakers during a congressional panel hearing last December. Google's search service has been blocked in China since 2010 because the company refused to comply with the country's online information censorship demands. But media reports last year said Google was developing a search service specifically for China that would comply with the country's online information filtering requirements.
Article continues below advertisement
Google threatened to take Baidu's lunch in China
Reports about Google relaunching in China's search engine market sparked a big sell-off in Baidu (BIDU) stock last year as investors feared the company could lose users as well as advertisers in a more competitive market. Therefore, the Google chief's comment that the company has no immediate plans to re-enter China's search engine market was viewed as relief for Baidu, which currently dominates the Chinese market and has a lot at stake if competition escalates.
Baidu's tight control in China
Baidu held more than 70% of China's Internet search engine market in December, according to data from StatCounter. Its closest competitor, Alibaba's (BABA) Shenma, held 15.6% of the market. Sogou (SOGO), Haosou, and Microsoft (MSFT) held 4.8%, 4.5%, and 2.0% of China's search engine market, respectively, in December. Although Google is blocked in mainland China, the company provides search service in Hong Kong. As a result, Google served 2.6% of Internet search queries across China, including Hong Kong, in December.