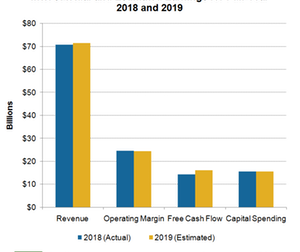 Intel's 2019 Earnings Guidance Hit by Headwinds
By Puja Tayal

Jan. 31 2019, Updated 11:05 a.m. ET
Intel's 2019 headwinds
Intel's (INTC) strong growth in 2018 is expected to turn from a tailwind to a headwind in 2019. It will be difficult for the company to beat its 2018 record earnings, especially when it's a market leader in the PC and server processor markets and overall demand is slowing. 
The US-China (FXI) trade war has intensified and has started affecting demand in China, from which Intel earns 20% of its revenue.
Moreover, competition is intensifying, with Advanced Micro Devices (AMD) launching its 7 nm (nanometer) processors ahead of Intel's 10 nm processors. Falling negative-AND prices and 14 nm production constraints are further slowing Intel's growth.
In light of the above-mentioned developments, Intel has provided more cautious guidance for 2019. It expects the first half to be weak and growth to pick up in the second half.
Article continues below advertisement
Macro headwinds
Intel expects its revenue to rise just 1% YoY (year-over-year) to $71.5 billion in 2019 as weakening demand, especially in China, slows growth. Cloud service providers are reducing their buying and absorbing the inventories they built in the first nine months of 2019, significantly affecting Intel's data center revenue and profit. Demand for smartphones is also slowing at Apple (AAPL), which is set to report its first YoY revenue fall in the December quarter.
Manufacturing headwinds
To add to this demand weakness, Intel is facing a supply shortage for its 14 nm processors, which it expects will last until the end of the second quarter of 2019 even though PC demand has slowed. On top of these supply constraints, Intel is preparing to start volume production on its 10 nm nodes by the end of 2019. The company will accelerate its 10 nm product launches to catch up with AMD in terms of technology.
Intel expects the above-mentioned manufacturing headwinds to lower its non-GAAP (generally accepted accounting principles) gross margin modestly—probably to ~60% in 2019 from 63.3% in 2018. The margin will also be impacted by an increasing mix of adjacent products, such as modems and silicon photonics, which have lower margins.
Intel will improve its operating leverage by controlling its expenses, which should help it maintain its non-GAAP operating margin at 34% and its EPS at $4.6. The company expects to maintain its capital spending at $15.5 billion in 2019 and improve its free cash flow by $1.75 billion to $16 billion.
Next, let's look at Intel's quarterly revenue.