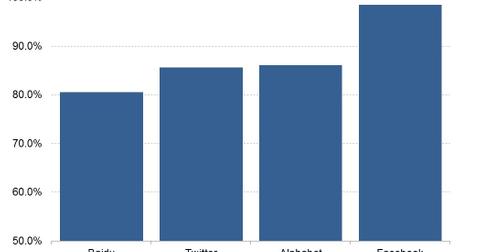 Initiative CEO Advises Clients to Boycott Facebook Advertising
By Neha Gupta

Updated
Advertising executive calls for Facebook ad boycott
In December, Matt Baxter, the CEO of Initiative, a global advertising agency owned by Interpublic Group (IPG), wrote on his LinkedIn page that he advised clients to boycott advertising on Facebook's (FB) platforms, the Wall Street Journal reported. Baxter posted the comment after the New York Times published an investigative story revealing that Facebook had allowed outside companies, including Spotify (SPOT) and Netflix (NFLX), to access its users' private messages.
Spotify and Netflix sell online music and video subscriptions, respectively. They are the leaders in their markets, with Spotify exiting the third quarter of 2018 with 87 million paying subscribers and Netflix ending the period with more than 130 million paying subscribers.
Article continues below advertisement
Initiative advises big brands
Initiative's clients include big brands such as Unilever (UN), Carlsberg, and Merck & Co., whose boycotts of Facebook advertising would cause huge revenue losses for the company. Unilever, for instance, spent more than $8.7 billion, or 14% of its revenue, on brands and marketing in 2017, its most recently reported financial year.
Advertising is Facebook's primary source of revenue, as is illustrated above. Facebook and other advertising companies work with ad agencies such as Initiative to attract advertising dollars.
Baxter's comment was personal
Luckily for Facebook, Baxter wasn't speaking for Initiative or IPG when he called for a boycott of Facebook advertising. A spokesman for IPG Mediabrands, the division that houses IPG's various advertising agencies, said Baxter's comments were his own and did not reflect the official position of Mediabrands or IPG in general.