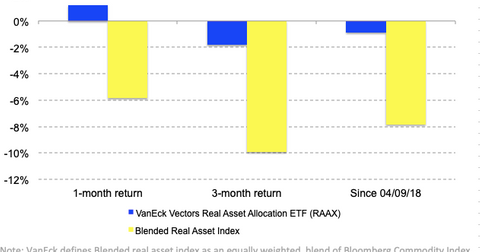 How VanEck's Guided Allocation Could Help
By VanEck

Updated
VanEck
BUTCHER: Great, thank you. And can you tell me a little bit about each one?
SCHASSLER: Sure. The VanEck NDR Manage Allocation Fund is a global tactical asset allocation strategy. It's designed to participate in markets, because markets typically rise, but get very defensive during these stress events. That's one of the strategies.
The second is LFEQ, which is a long/flat equity fund. It's an ETF, LFEQ. What it does it's the S&P 500 long/flat. Think S&P 500 with guardrails. It uses the industries to get a technical gauge of risk and get very defensive when industry risk gets very high.
Article continues below advertisement
The last part is real asset allocation. The ticker's RAAX, and what it does is it gives you exposure to real assets, real assets defined as commodities, natural resource equities, infrastructure REITS, MLPs. It gives you exposure to those assets, but it does it with a lot less volatility than investors in those assets are used to. So the idea is participate in real assets when the wind is at your back, but get very defensive when things are not. And that's really how I describe each of these three products.
BUTCHER: Great. Thank you very much indeed, David.
SCHASSLER: Tom, thank you very much.
BUTCHER: For more information and these and other products, please go to the VanEck website, www.vaneck.com.
VanEck's Guided Allocation ETFs are set up to protect your portfolio when stock markets decline and offer exposure to gains during an upturn. By limiting downside risk, these ETFs are well positioned to gain more when markets rebound. The VanEck Vector NDR Long/Flat Allocation ETF (LFEQ) gives exposure to the S&P 500 and US Treasury. The latter gives protection in risk-off environments.
If you prefer an allocation in real assets, you could opt for the VanEck Vectors Real Asset Allocation ETF (RAAX), which also puts a floor on losses. As the graph above shows, RAAX outperformed the Blended Real Asset Index in last year's fourth quarter, when risky assets started plunging.
The VanEck Guided Allocation strategy works because it's flexible. Weightings are modified as managers anticipate changes in market sentiment.