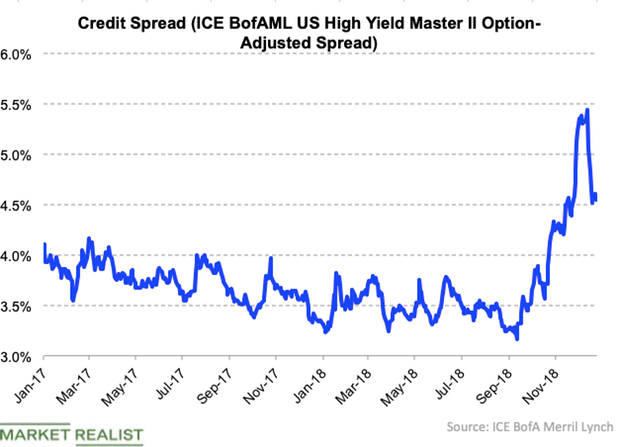 How Risky Assets Have Behaved Lately
By VanEck

Jan. 29 2019, Updated 2:35 p.m. ET
VanEck
Now, how is the market reacting to that? You see it in the fixed income markets, spreads are widening. Look at credit spreads, credit spreads are widening, a sign that default risks are higher. You're seeing parts of the yield curve invert. What does that mean? It means the fixed income market is pricing in a higher chance of recession.
You see it within the fixed income markets, and these models are picking up on that, but you also see it in equity markets. Volatility is higher, realized and implied volatility is higher. Market breadth, I'm talking about global market breadth. Most countries were selling off prior to the U.S. The U.S. has finally joined the sell-off party.
Now you've got global weakness being exacerbated because the U.S. are the largest portion of the world's markets and pulling the world markets down now. You're seeing a lot of pricing pressures.
Article continues below advertisement
The first graph shows changes over the last year in the ICE BofAML US High Yield Master II Option-Adjusted Spread, which uses an index of bonds below investment grade and a spot Treasury curve to arrive at an option-adjusted spread. Credit spreads tend to be wider when the economy and debt markets are less benign and the risk of junk bonds (JNK) defaulting is higher. Meanwhile, spreads narrow when the economy improves and there is a lower chance of a default, causing junk bond prices to rise and yields to fall.
As the first graph shows, credit spreads widened during last year's fourth quarter as economic risks grew. Risky assets such as high-yield bonds and equities improved as the Fed's stance became dovish in December, causing these assets to bounce back a bit.
The second graph shows that global markets, as tracked by the iShares MSCI ACWI ex-US ETF (ACWX), declined steadily last year, while US markets, as tracked by the SPDR S&P 500 Index ETF (SPY), outperformed. However, both US and global markets fell in tandem during last year's fourth quarter, especially in December.
As US markets started selling off, so did global markets. SPY and ACWX's correlation based on daily returns has been +0.89 since early December, but +0.28 in the last 12 months.