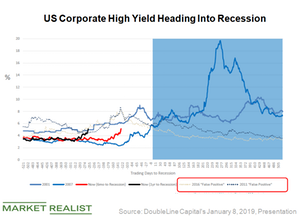 Gundlach: Junk Bond Market Is Flashing Yellow on Recession
By Anuradha Garg

Jan. 10 2019, Updated 12:35 p.m. ET
How near are we to a recession?
Currently, one of the questions on the minds of most investors is whether we are entering a recession.
According to a chart shown by Jeffrey Gundlach, if we consider the way junk bond spreads have generally behaved six months ahead of recessions, we'll find that there's no immediate contraction on the horizon.
He notes, however, that according to the red line in the graph above, the recession risk is rising even if it's still relatively early.
Article continues below advertisement
Flashing yellow
Gundlach is somewhat concerned about the high-yield junk bond (JNK) market, which he's said is now "flashing yellow." He added that while this could be a "false negative," it's "something we're going to have to watch very, very carefully."
Gundlach also thinks that the corporate bond market has the potential for negative surprises. He thus advises investors to use the strength of junk bonds as a gift and get out of them.
Yield curve and recession fears
Regarding his outlook on the yield curve, the bond king has said that contrary to conventional wisdom, he expects the bond curve (TLT) (BND) to steepen. He noted that the yield curve will flatten but will steepen before a recession begins.
At the beginning of December, part of the US Treasuries yield curve inverted for the first time since the recession, with the spread between five- and three-year Treasury yields narrowing to -0.01 percentage points. The most-watched spread, the one between the two- and ten-year Treasury yields, also narrowed the most it had since the previous recession.
The markets (DIA) (IVV) have been concerned that more hikes from the Fed could invert the curve, which has usually been an accurate predictor of upcoming recessions.