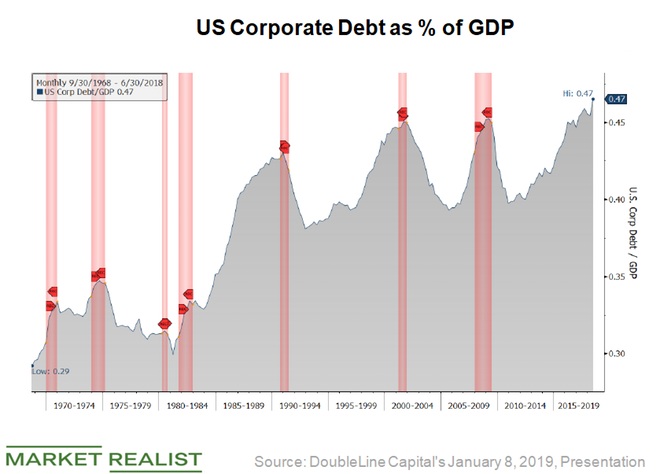 Fund Managers Most Concerned about Corporate Leverage Since 2009
By Anuradha Garg

Jan. 16 2019, Updated 2:55 p.m. ET
Concerns about corporate leverage
As reported by CNBC, according to the Bank of America Merrill Lynch survey for January, hedge fund managers' chief concern is corporate leverage.
This marks the first time since the financial crisis that corporate leverage has topped investors' (SPY) (IVV) list of concerns, with 48% of them believing that corporate balance sheets are overleveraged.
Article continues below advertisement
Balance sheet improvement over capex
A total of 50% of those surveyed would prefer corporates use cash to improve their balance sheets instead of increase their capex or return cash to shareholders. Leverage has taken on increased importance among investors since the Fed reversed its easing policy starting in December 2015. Rising interest rates affect refinancing costs, and leveraged balance sheets become even riskier.
Gundlach echoes this worry
As we highlighted in Why Gundlach Expects a Wave of Corporate Downgrades to Come, Jeffrey Gundlach thinks there's a high risk of downgrades in the BBB space, as leverage has risen to near-record highs. He used a historical leverage ratio analysis to highlight how a large portion of BBB-rated bonds (BND) should be junk (JNK) right now.
Gundlach said that ~45% of the entire investment-grade bond market (AGG) should be rated as junk based on leverage ratios. Gundlach also stated that while downgrades have started to happen, even more should have happened already. He thus expects a wave of downgrades to come.