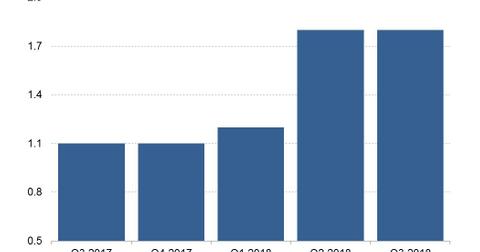 Did Square Grow Its Cash Stockpile?
By Neha Gupta

Updated
Payments related to borrowings led to cash decline
Square (SQ) closed the third quarter of 2018 with $1.8 billion in cash, down $78 million from the previous quarter. The fall in Square's cash stockpile was a result of payments tied to certain convertible notes. In March 2017, Square issued $440 million in senior convertible notes maturing in 2022. In the third quarter, $70 million of those notes converted, and Square used some of its cash to settle them. The company plans to spend an additional $149 million to settle some of those 2022 notes, which could result in a drop in its cash stockpile.
PayPal (PYPL) and Fiserv (FISV) closed the third quarter with $10.5 billion and $673 million in cash, respectively. First Data (FDC) and Worldpay (WP) ended the third quarter with cash balances of $601 million and $373.7 million, respectively.
Article continues below advertisement
Square is using its cash to fuel growth
In addition to settling its borrowings, Square also uses its cash stockpile to invest in driving more growth. Last year, Square spent $365 million in cash and stock to acquire Weebly, a website and online store builder with a global footprint. Weebly boasts millions of customers, ~625,000 of whom are paying subscribers. Square said that the acquisition of Weebly would help accelerate its global expansion. 
Square currently operates in five countries, lagging far behind PayPal, which operates in more than 200 countries. In addition to helping it accelerate its global expansion, Weebly could also provide an avenue for Square to expand in the online payment space.