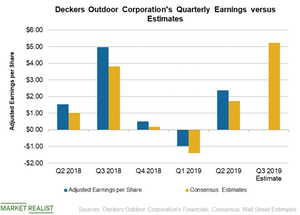 Deckers' Recent Bottom-Line Performance Has Been Impressive
By Victoria Dean

Jan. 3 2019, Updated 9:00 a.m. ET
Bottom-line performance
In the last ten quarters, Deckers Outdoor (DECK) has beaten analysts' bottom-line estimates nine times and missed them just once. Strong sales growth and a lower tax burden are the primary factors.
In the first quarter of fiscal 2019, adjusted EPS of -$0.98 bested consensus estimates of -$1.42 million. Also, adjusted EPS came in better than the -$1.28 reported in the first quarter of fiscal 2018. For the second quarter, adjusted EPS of $2.38 was much better than analysts' projection of $1.72 and increased by 54.5% YoY.
Article continues below advertisement
Due to the strong first-half performance, Deckers Outdoor raised its outlook. For fiscal 2019, adjusted EPS is now forecast at $6.65–$6.85 compared to the previous guidance of $6.25–$6.45. The tax rate for fiscal 2019 is expected to be 21%. It expects its third quarter of fiscal 2019 adjusted EPS at $5.10–$5.25. Analysts' projections for fiscal 2019 and the third quarter stand at $6.86 and $5.24, respectively.
How have peers fared?
Meanwhile, for the first two quarters of fiscal 2019, Nike's (NKE) EPS beat analysts' projections and increased on a YoY basis. Its bottom-line growth was cushioned by higher revenue amid increased taxes and higher expenses.
For the first three quarters of 2018, Skechers (SKX) has beaten the EPS estimates in two quarters and missed them once. On a YoY basis, EPS declined in two quarters but increased in one quarter.
Deckers' margin and expenses
In the first quarter, gross margin rose 270 basis points to 45.9%. SG&A (selling, general, and administrative) expenses increased by 5.1% to $154.4 million in the first quarter. The company's operating income was $39.4 million versus its loss from operations of $56.3 million in the first quarter.
Deckers' second-quarter gross margin increased 350 basis points to 50.2% driven primarily by higher DTC sales for all brands and lower airfreight costs. Its SG&A expenses rose 2.4% YoY. Its operating profit increased 34.2% to $90.4 million.
For fiscal 2019, Deckers projects gross margin to be ~50%. Operating margin is forecast to be 13.0% to 13.2%. The company expects its SG&A expense rate to be a bit above 37.0% in fiscal 2019.