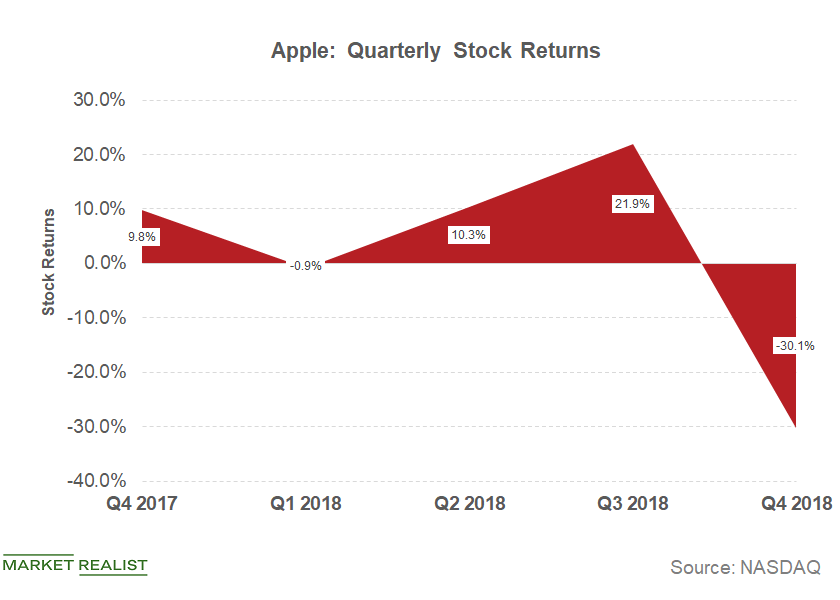 Could Apple's iPhone Meet Blackberry's Fate Sooner than Expected?
By Jitendra Parashar

Jan. 10 2019, Published 1:05 p.m. ET
Apple's iPhone
In this series, we have discussed how Apple's (AAPL) declining iPhone sales could hurt its upcoming earnings. We also discussed Warren Buffett's views on the iPhone. The company confirmed weaker iPhone sales by cutting its guidance on January 2 for the quarter ending December 29. While Apple confirming the sales troubles forced it to cut the guidance for the last quarter, the implications could haunt the company in upcoming quarters. Some analysts have cut their estimates for Apple's revenues from the iPhone segment.
Article continues below advertisement
Blackberry's fate
When we hear the name "Blackberry" (BB), the first image that pops into many peoples' minds is a bulky smartphone. However, that wasn't the case for Blackberry when it was near the peak of its success around 2006. Blackberry started facing troubles after the iPhone launched in 2007 and the Android launched in 2008.
The iPhone is still the world's most popular smartphone brand. However, rising competition from other brands, especially in China, could point toward a big problem for Apple in the long term. Despite what Warren Buffett said about the iPhone's pricing, which we discussed in Part 3, many cheaper alternatives are impacting the iPhone. Apple cut its recent guidance due to declining iPhone sales. The company's decision not to reveal the iPhone's unit sales figures and reports about a cut in the production plan might signal that the iPhone could fall sooner than expected.
Apple stock
Investors are optimistic about the latest round of the US-China trade talks (SPY). The optimism helped Apple recover this week. As of January 9, Apple stock has fallen 2.8% MTD (month-to-date). NVIDIA (NVDA), Alphabet (GOOG), Facebook (FB), Amazon (AMZN), Netflix (NFLX), Microsoft (MSFT), China's Tencent Holdings (TCEHY), and Baidu (BIDU) have risen 6.8%, 3.5%, 10.0%, 10.5%, 19.5%, 2.7%, 7.2%, and 5.1%, respectively MTD. In contrast, Qualcomm (QCOM) has fallen 0.5%.