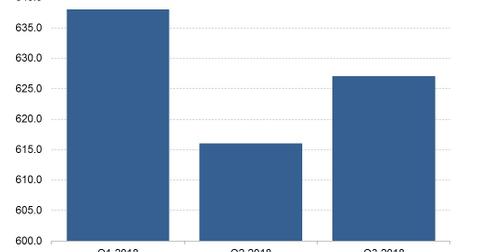 Can Ericsson's African Business Do Better?
By Ruchi Gupta

Updated
Tigo Senegal selects Ericsson to upgrade its network
Last month, Ericsson (ERIC) announced that it had secured three years of network upgrade business from Tigo Senegal, one of the leading mobile operators in the West African country. The project covers more than 1,000 sites and involves the upgrade and expansion of the operator's network coverage.
Tigo Senegal serves more than 3.3 million customers across Senegal.
The financial terms of the Tigo Senegal contract weren't disclosed, but the contract could help bolster Ericsson's African business, which has been declining in recent quarters. In the third quarter of 2018, Ericsson's revenue in the Middle East and Africa fell 9.0% YoY (year-over-year) to $627 million. Revenue in the region fell 2.0% YoY in the second quarter. Nokia (NOK) also reported a fall of 10% YoY in its revenue in the Middle East and Africa in the third quarter.
Article continues below advertisement
Ericsson sees the highest growth rate in Africa
In addition to Tigo Senegal, Ericsson is courting other operators in Africa, as it also has its sights set on the continent's 5G market. In November, Ericsson announced that it would be carrying out a 5G network trial with operator MTN in South Africa.
Ericsson and Nokia are banking on the uptake of their 5G equipment by operators to reverse their fortunes, which have mostly been dwindling since the 4G rollout peaked in key markets. In the pursuit of 5G dollars, Ericsson and Nokia have made progress in America, where they have won contracts for 5G equipment and technology from leading operators in the region, such as Verizon (VZ), AT&T (T), and T-Mobile (TMUS). But Ericsson has said that the Middle East and Africa region has the highest growth rate.