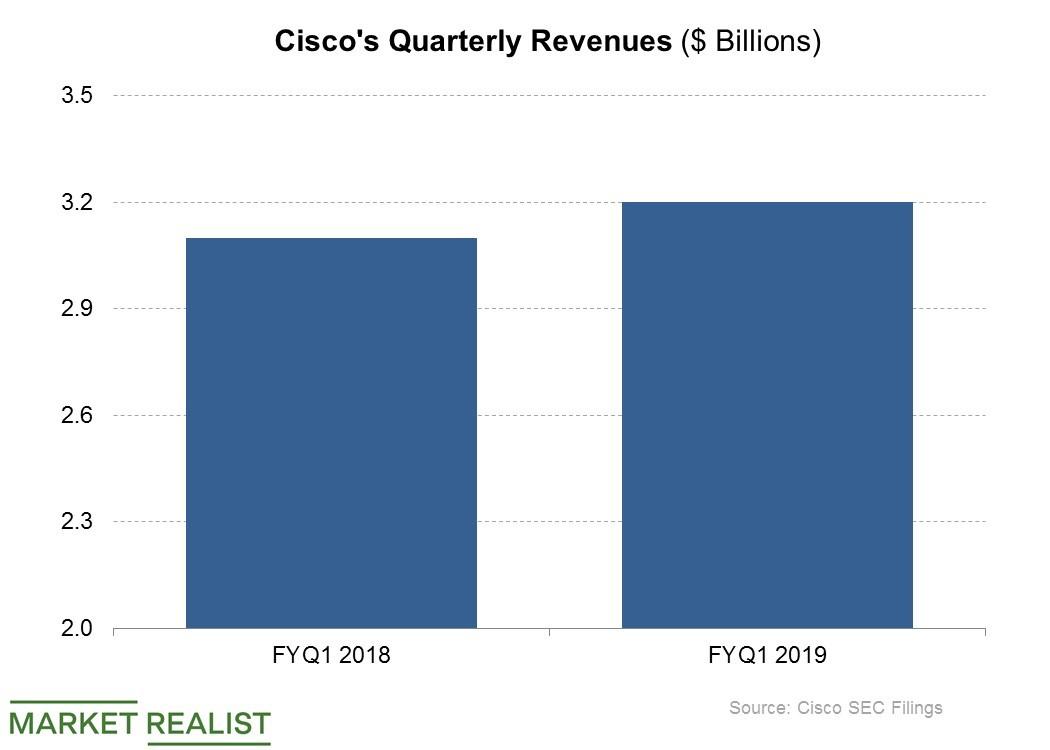 Can Cisco's Wallet Support Big-Ticket Acquisition Deals?
By Ruchi Gupta

Jan. 23 2019, Updated 12:35 p.m. ET
Attempts to diversify its business
Cisco Systems (CSCO) bought six companies in 2018 in efforts to expand and diversify its business, according to Crunchbase data. In recent years, Cisco has sought to diversify outside its traditional networking hardware market, and this has seen the company venture into the software and services market. In the first quarter of fiscal 2019, which ended in October 2018, Cisco reported $3.2 billion in service revenue, up from $3.1 billion a year earlier.
Article continues below advertisement
According to BC Capital analyst Matthew Hedberg, Cisco may want to continue its acquisition spree to drive more growth in its software and service business and further diversify its business, Investor's Business Daily reported. The analyst singled out Splunk (SPLK) and Nutanix (NTNX) as two companies that Cisco could acquire, saying these companies run businesses that could be great fits for Cisco's strategy. But they're not cheap. Splunk's market cap is in the range of $17 billion, and Nutanix's market cap is in the range of $7.0 billion, suggesting a potentially huge investment for Cisco if it decides to pursue these acquisitions.
Cisco's cash stockpile and capital allocation
Cisco exited the first quarter of fiscal 2019 with $42.6 billion in cash, suggesting that it's in a position to close big-ticket acquisitions if it so desires.
In addition to spending its cash on acquisitions, Cisco also has a shareholder capital return program through which it uses a portion of its cash stockpile to pay dividends and repurchase some of its shares. The company repurchased $5.0 billion worth of its shares in the first quarter, leaving it with $14 billion in its existing repurchase program.
In the first quarter, Cisco returned $6.5 billion to its shareholders, consisting of $1.5 billion in dividends and $5.0 billion in repurchases. Some $14 billion remained in Cisco's existing repurchase authorization at the end of the first quarter. Intel (INTC) and IBM (IBM) made $2.7 billion and $0.6 billion in share repurchases, respectively, in the September 2018 quarter.