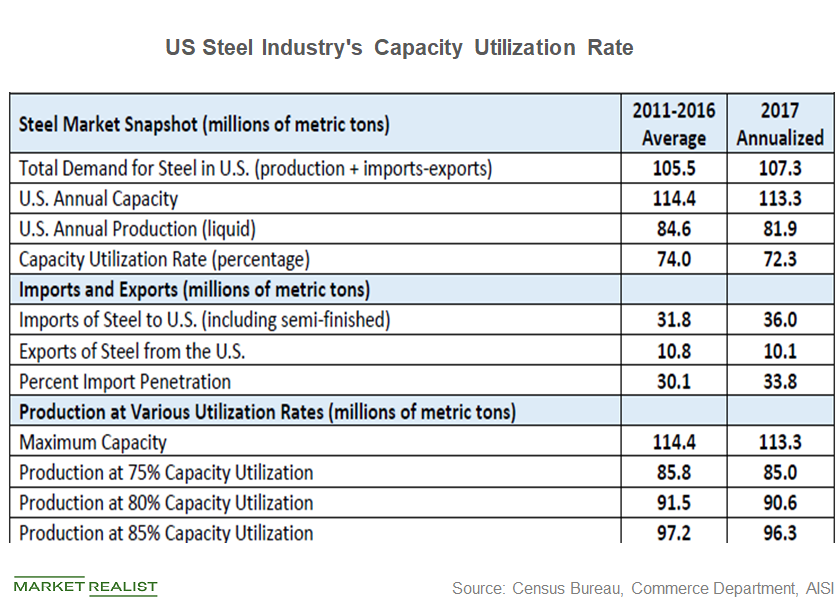 Are Trump's Tariffs Having the Desired Effect?
By Mohit Oberoi, CFA

Jan. 23 2019, Updated 3:05 p.m. ET
Trump's tariffs
As we learned earlier, last year, President Donald Trump imposed Section 232 tariffs on US steel and aluminum imports. With the tariffs, the Trump administration aimed to protect the domestic steel industry from an onslaught of imports.
According to the report by the US Department of Commerce, "The quotas or tariffs imposed should be sufficient, even after any exceptions (if granted), to enable US steel producers to operate at an 80 percent or better average capacity utilization rate based on available capacity in 2017."
Article continues below advertisement
Capacity utilization rate
The US steel industry's capacity utilization rate surged past 80% last year for the first time since 2014. US steel companies also witnessed surges in their profitabilities as steel prices rose following the tariffs. U.S. Steel Corporation (X) announced last year that it would be restarting two of its blast furnaces. Nucor (NUE) and Steel Dynamics (STLD) continued to invest in new plants as cash flows improved on higher steel prices. Last year, Steel Dynamics announced a steel plant (AKS) (MT) with a capacity of 3 million tons per year.
According to Bloomberg Intelligence analyst Andrew Cosgrove, "Between 11.2 million metric tons and 11.9 million tons of new capacity, equivalent to as much as 10 percent of 2018 consumption, is slated to hit the U.S. market by the end of 2022."
On the face of it, steel tariffs seem to be working given the restarts of curtailed plants and the announcements of new capacity. However, incremental capacity could become the US steel industry's nemesis. We'll explore this prospect in the next article.