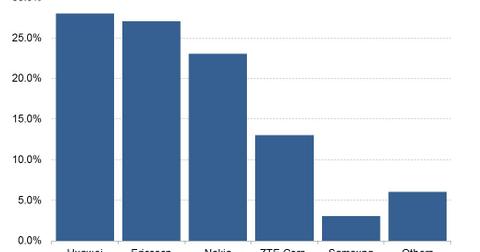 Are Huawei's Woes Creating Openings for Samsung?
By Ruchi Gupta

Jan. 3 2019, Updated 10:30 a.m. ET
Samsung's market share was just 3.0% in 2017
Samsung (SSNLF) wants to capture 20% of the global market for telecom equipment by 2020, the Korea Herald reported last year, citing Samsung's head of network business, Kim Young-ki.
At the moment, Samsung is an underdog in the telecom equipment vendor market, and Huawei, Ericsson (ERIC), and Nokia (NOK) are some of the obstacles it faces in its chase for the network equipment business. Samsung's share of the global telecom equipment market was just 3.0% in 2017 compared to 28% for Huawei, 27% for Ericsson, and 23% for Nokia (NOK), according to data from IHS Markit cited in a Reuters report.
Article continues below advertisement
Huawei rejection
Huawei is now facing rejections that could help its rivals such as Samsung in the pursuit of 5G contracts. The United States, Australia, and New Zealand have barred Huawei products from being used to build their 5G networks. Even in Germany, France, and the UK where the governments haven't expressly banned the use of Huawei products, several operators have shown they will not work with Huawei on 5G network developments. Germany's Deutsche Telekom is reviewing its ties with Huawei with regards to 5G, while France's Orange (ORAN) has said no to Huawei on 5G, Reuters reported. The UK's BT Group has said it would not work with Huawei on 5G, Reuters reported.
Samsung gains in the United States
In the United States, Samsung has been selected to supply 5G equipment for three of the country's four leading operators. Samsung has also picked up 5G contracts in its home market South Korea and is expecting gains in the Europe market as well.