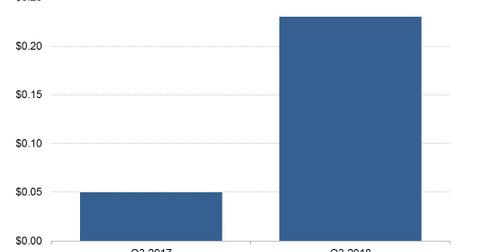 Yandex Moves to Feed Russia's Appetite for Foreign Goods
By Neha Gupta

Updated
Two marketplaces launched
Yandex (YNDX) has launched two e-commerce marketplaces, with one dedicated to enabling Russians to purchase goods from overseas retailers, and the other focused on facilitating purchases from domestic retailers. The international-focused platform, Bringly, offers Russian consumers access to more than 4.0 million items in categories ranging from clothing to beauty products.
Article continues below advertisement
600 product categories in the domestic marketplace
The launch of Bringly is Yandex's attempt to capitalize on Russian consumers' strong appetite for foreign goods. Yandex has stated that two in three Russians buy products from overseas sellers through online channels. Also, according to a study by the Association of Online Retail Companies, online sales of imported consumer goods in Russia rose 37% in 2016, outpacing the 6.0% increase seen in online sales of domestic consumer goods. Yandex's domestic-focused platform, Beru, features more than 1,000 retailers and 600 product categories.
A $52 billion revenue opportunity in e-commerce
The Bringly and Beru marketplaces are part of Yandex.Market, the e-commerce business Yandex owns jointly with Russian lender Sberbank. With these marketplaces, Yandex is pursuing the Russian e-commerce industry's billions of dollars in revenue. According to Morgan Stanley, the Russian e-commerce market for physical goods was worth $18 billion in 2017 and is forecast to grow to $31 billion by 2020 and $52 billion by 2023. However, these figures could be just the tip of the iceberg, as e-commerce currently accounts for only 3.0% of Russia's total retail market.
Yandex generated revenue of $496.6 million and had EPS of $0.23 in the third quarter. Meanwhile, Google parent Alphabet (GOOGL), Baidu (BIDU), Twitter (TWTR), and Facebook (FB) had EPS of $13.06, $5.13, $0.14, and $1.76, respectively.