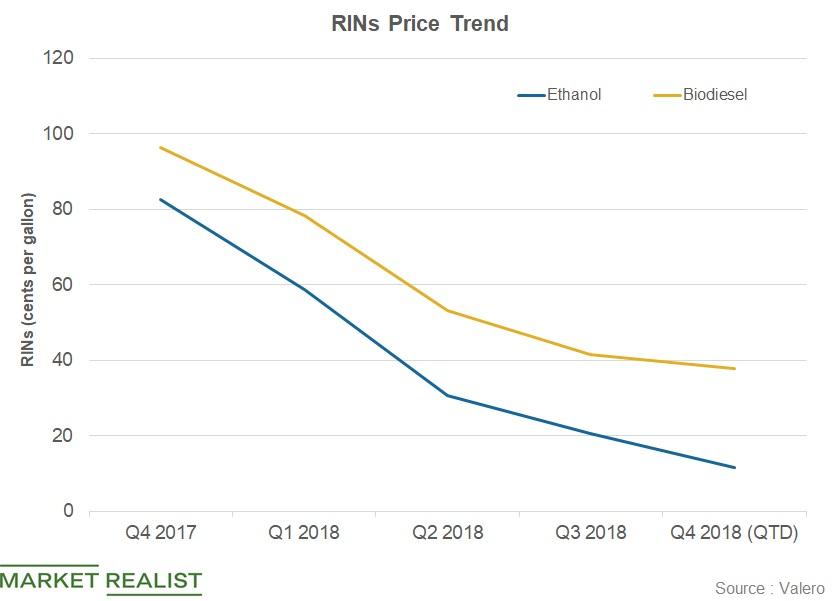 Will Refiners' Q4 Renewable Identification Numbers Expense Fall?
By Maitali Ramkumar

Dec. 28 2018, Updated 9:00 a.m. ET
Why are we reviewing RINs prices?
Refiners' earnings are consistently affected by RINs (renewable identification numbers) expenses. Refiners, being producers of petroleum products, have to blend renewable fuels at a rate that satisfies the EPA's (U.S. Environmental Protection Agency) annual quota. If refiners are unable to do so, they have to purchase RINs, resulting in a continuous compliance expense.
Valero Energy (VLO) incurred ~$942 million to purchase RINs in 2017, around 26% of its operating earnings. PBF Energy (PBF) and HollyFrontier (HFC) have borne the brunt of the RINs costs. PBF's RINs expense stood at ~$300 million in 2017.
Thus, this cost is continuously denting earnings for refiners. However, due to softening RINs prices in 2018, Valero's RINs cost fell by $200 million YoY to $431 million in the first nine months.
Article continues below advertisement
RINs prices in the fourth quarter
RINs prices have fallen sharply in the past few quarters. According to data published by Valero, prices of ethanol RINs have declined by 86% YoY to 11.7 cents per gallon in Q4 2018 quarter-to-date. Also, prices of biodiesel RINs have dropped by 61% YoY to 37.8 cents per gallon in the same period, which could mean lower RINs expense for refiners in the fourth quarter.
Thus, RINs expense continues to dent refiners' earnings, but the expense will be weakened in the fourth quarter, which means that refiners could save some of the earnings that were utilized towards RINs expenses in the same period last year.
Moreover, lower RINs expenses could partly offset the year-over-year fall in refining earnings caused by possibly weaker margins in the fourth quarter.