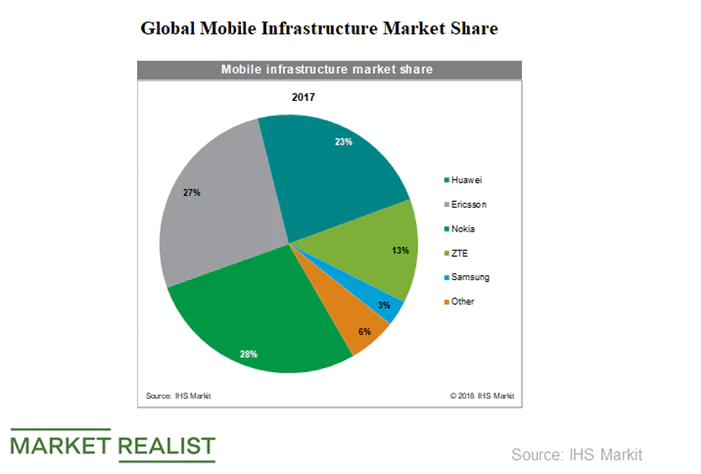 Will Ericsson Benefit from Huawei's US and International Bans?
By Adam Rogers

Dec. 14 2018, Updated 7:31 a.m. ET
The leading telecommunications company
According to IHS Markit, China's (FXI) Huawei led the global mobile infrastructure market at the end of 2017 with a share of 28%, up from 25% in 2016. Huawei was, in fact, the only major player to gain market share.
Ericsson saw its market share fall from 28% to 27% in 2017, while Nokia's share fell to 24% from 23% in the same period. Ericsson (ERIC) announced some major deals at the Mobile World Congress this year and could be on the verge of a comeback by the end of 2019.
Ericsson leads the EPC (evolved packet core) market. Ericsson and Huawei account for nearly 60% of the global EPC market, while peers Nokia (NOK), Cisco (CSCO), and ZTE account for ~40%.
Article continues below advertisement
Huawei faces bans in major international markets
The United States has raised several questions over the use of Huawei's equipment and has accused the company of spying. Trade tensions with China have further escalated matters. However, Ericsson CEO Börje Ekholm has confirmed that these events haven't translated into more orders.
Australia has joined the United States and decided to ban Chinese suppliers from deploying 5G networks. Ericsson's revenue over the last few quarters has been affected by lower 4G deployments in most markets. It's already part of a mature business environment.
The ban on Huawei should have translated into more orders for Ericsson, but the company said this wasn't the case.