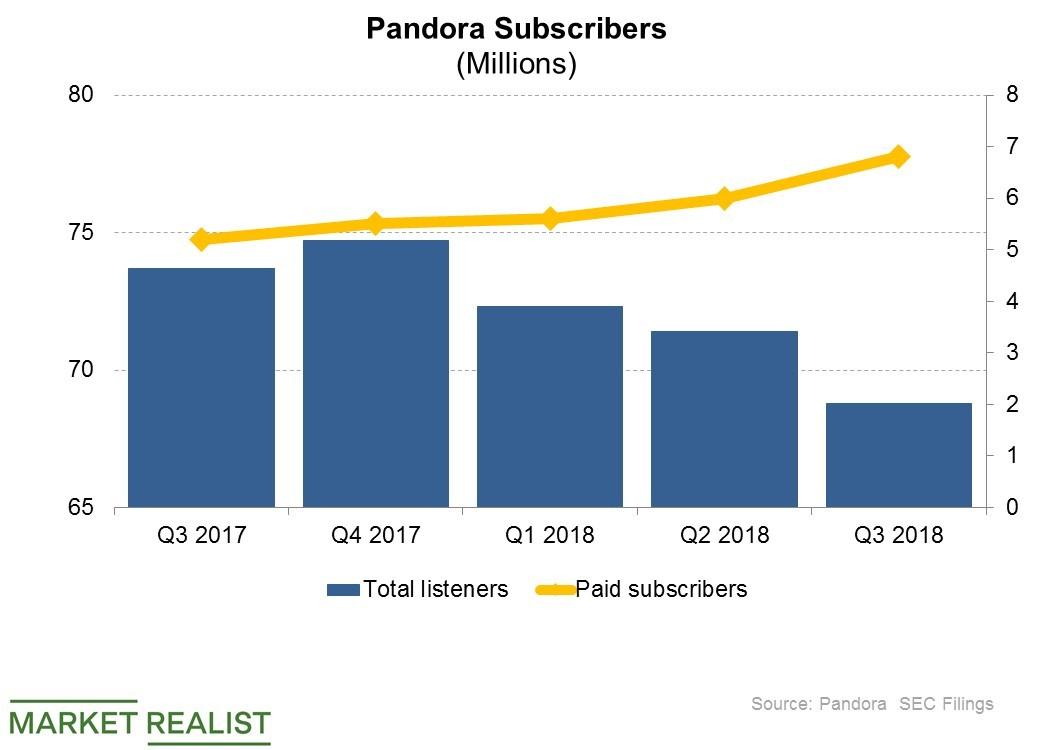 Why Pandora Is Drawn to Podcast Business
By Neha Gupta

Dec. 17 2018, Updated 7:31 a.m. ET
Pandora launches new podcast service
Although Pandora (P) has been serving up podcasts for years, the company is getting deeper into the podcast business. Earlier this month, Pandora launched a personalized podcast recommendation service, where it leverages artificial intelligence capabilities to help its listeners discover podcasts that are unique to their taste. With this personalized recommendation service, Pandora hopes to make podcast discovery effortless for its subscribers and hopefully pull more podcast fans to its platform. One of the trickiest parts for podcast listeners is discovering new podcasts that meet their taste.
Article continues below advertisement
$659 million podcast revenue opportunity
The recommendation service could help Pandora kill two birds with one stone. First, podcasts are shaping up to be a big business. According to a study by IAB (Interactive Advertising Bureau) and PwC, the podcast industry in the United States generated $169 million in revenue in 2016 and is on pace to generate $659 million of revenue by 2020.
Pandora is not the only music streaming company that has been drawn to the commercial opportunity in the podcast industry. Spotify (SPOT) is also expanding in the podcast space. In October, Spotify launched a new podcast-focused platform. Apple also serves up podcasts.
6.8 million paying subscribers
In addition to direct podcast revenues, which mostly come from advertising, podcast serving can also help companies like Pandora recruit new paying subscribers. Pandora exited the third quarter with 6.8 million paying subscribers. The company's revenue rose 16% YoY to $417.6 million in the third quarter. Google parent Alphabet (GOOGL), Tencent (TCEHY), and Amazon (AMZN) grew their revenues by 21%, 24%, and 29% YoY, respectively, in the third quarter.