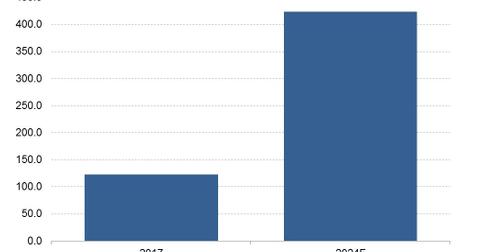 Why Apple Might Be Hiring Doctors
By Ruchi Gupta

Jan. 1 2019, Updated 10:30 a.m. ET
The race for a $423 billion revenue opportunity
Apple (AAPL) has been quietly recruiting doctors to join its staff, CNBC has reported, citing people familiar with the matter. Apple has reportedly hired dozens of doctors recently—but it's not alone. Amazon (AMZN) and Alphabet (GOOGL) are other technology companies that have been recruiting doctors, according to CNBC.
The hiring of doctors is viewed as Apple getting serious about pursuing the revenue opportunity in the digital health market. According to Zion Market Research, the worldwide digital health market was worth $122.7 billion in annual revenue in 2017, and it's poised to grow to $423.1 billion in annual revenue by 2024.
Article continues below advertisement
Program to speed up the approval of health software
Last year, Apple was selected alongside companies such as Fitbit (FIT), Johnson & Johnson (JNJ), and Alphabet's Verily subsidiary to join an FDA pilot program intended to speed up the approval of its new health software.
Verily is one of Alphabet's experimental businesses known collectively as its Other Bets. It's focused on life sciences, and it recently struck a deal that will see it take up a substantial equity stake in glucose-monitoring systems maker DexCom (DXCM).
Integration of health tech into products
Apple's bringing doctors on board could help it accelerate the integration of health technologies into its range of products in the race for the commercial opportunity in the digital health market. Apple's Apple Watch device can already be used to monitor health conditions. For example, it can take heart readings.