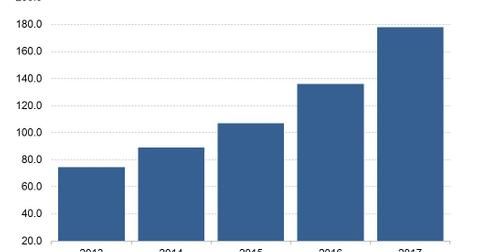 Where Will Amazon's Australia Unit Be in 2024?
By Neha Gupta

Updated
Amazon suffered a loss in its first month in Australia
Amazon (AMZN) entered the Australian retail market in December 2017, meaning that this month, the company marked its first year of domestic online retail operations in the country. Amazon's Australian launch has seen it broaden its international reach amid the intensifying race for e-commerce dollars as consumers increasingly shop online.
Amazon doesn't break down its revenue by country, but regulatory filings cited by the Sydney Morning Herald showed that Amazon had sold goods worth 16 million Australian dollars ($11.3 million) in Australia in 2017. This performance basically reflected one month of operations in the country. The company suffered a loss of 8.9 million Australian dollars in the period.
Article continues below advertisement
Amazon to transform into a dominant force in seven years
Citing analysts, ABC News has reported that Amazon is poised to dominate the Australian retail market within seven years despite its shaky debut in the country. According to the report, it generally takes Amazon seven years to dominate a new market, going by its performances in countries such as Canada and the United Kingdom. Amazon's Australia unit is expected to have grown into a powerful retail force in the country by 2024.
Amazon posted a $3.0 billion worldwide profit
Worldwide, Amazon generated revenue of $177.9 billion and posted a profit of $3.0 billion in 2017 after taking into account $769 million in provisions for income taxes. eBay (EBAY), Shopify (SHOP), and JD.com (JD) reported losses of $1.0 billion, $40 million, and $18 million, respectively, in 2017. Etsy (ETSY) reported a profit of $81.8 million in the year.