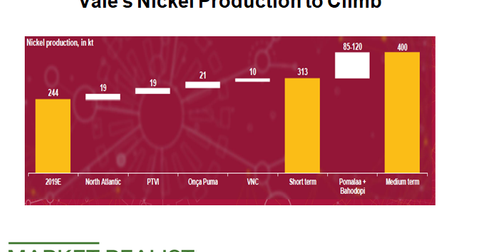 Vale Is Getting Ready for the Electric Vehicle Revolution
By Anuradha Garg

Updated
Opportunity in the electric vehicles market
On Vale Day on December 4, 2018, Vale (VALE) said it is getting ready for the coming electric vehicle revolution. For that, it will have to fix its base metals (DBB) division. Previously, the company had cut back on its volumes in base metals to better align production with market conditions. Nickel, cobalt, and lithium are used in rechargeable batteries in electric vehicles. Companies such as Tesla (TSLA) and NIO (NIO) have already demonstrated the potential of EVs.
Article continues below advertisement
Nickel demand to rise significantly
Vale estimates that just based on the announcements of investments in electric vehicles (or EV) made by the major automakers (XLY) in the world, production of EVs would be ~14 million cars in five years as compared to the current 1 million cars. This rise would represent at least 500,000 tons of demand for high-quality nickel. Vale said it is exactly the type of nickel the company produces. It also said that the nickel industry needs to keep pace with demand, which would need a supply of 100,000 tons of nickel per year between 2017 and 2023 and 195,000 per year between 2024 and 2030.
Preparing itself to benefit from the opportunity
In order to prepare itself for the coming huge opportunity:
Vale has decided to continue with its VNC (Vale New Caledonia) operation, which will be instrumental in supplying the market as demand for batteries grows.
Vale has also reached an agreement with Glencore (GLNCY) to jointly explore the Vale's Victor orebody and Nickel Rim South, which belongs to Glencore.
For short-term turnaround in nickel, Vale is focusing on Canadian operations, PTVI and VNC. Through improvements and investments in these operations, Vale is expecting to reach 313,000 tons of nickel in the short term and 400,000 tons in the medium term from an estimated 244,000 tons in 2019.