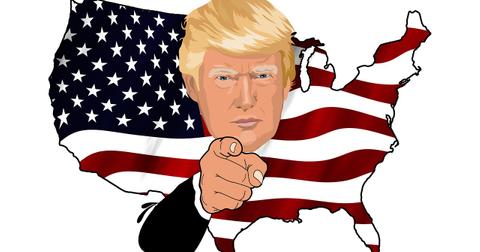 Trump Makes Stock Market Bleed Again Saying "I am a Tariff Man"
By Jitendra Parashar

Updated
Market bleeds again
The broader markets kickstarted December on a strong note with the S&P 500 Index (SPY), Nasdaq Composite Index (QQQ), and Dow Jones Industrial Average rising 1.1%, 1.6%, and 1.1%, respectively, in Monday's trading session. However, the market has started bleeding again on Tuesday, erasing all the gains seen on Monday. Today at 1:50 PM EST, the S&P 500, Nasdaq, and Dow Jones were trading down 2.7%, 3.2%, and 2.7%, respectively, from Monday's closing levels. Let's take a look what triggered this sell-off today.
Article continues below advertisement
Trump's comments hurt sentiments
On December 3, market gains were primarily driven by investor optimism seen after President Donald Trump and Chinese President Xi Jinping met in Argentina over the weekend. The top leaders of the world's two largest economies discussed issues related to US-China trade.
After the meeting, White House released a statement saying, "President Trump has agreed that on January 1, 2019, he will leave the tariffs on $200 billion worth of product at the 10% rate, and not raise it to 25% at this time." The statement also said that "China will agree to purchase a not yet agreed upon, but very substantial, amount of agricultural, energy, industrial, and other product from the United States to reduce the trade imbalance between our two countries."
This was followed by Trump's tweet  on December 2 that said, "China has agreed to reduce and remove tariffs on cars coming into China from the U.S. Currently the tariff is 40%." However, this tariff reduction was not officially confirmed by China. Hence, investors started seeking more details.
Earlier today, Trump's tweets suggesting stiffness in his stand on the negotiations with China hurt investor sentiment and triggered a sell-off. In a series of tweets, Trump mentioned that "President Xi and I want this deal to happen, and it probably will. But if not remember, I am a Tariff Man."
At 2:05 PM EST, the stocks of large companies such as Apple (AAPL), General Electric Company (GE), Boeing (BA), Ford (F), and General Motors (GM) were down 4.1%, 5.1%, 4.3%, 3.4%, and 3.8%, respectively.