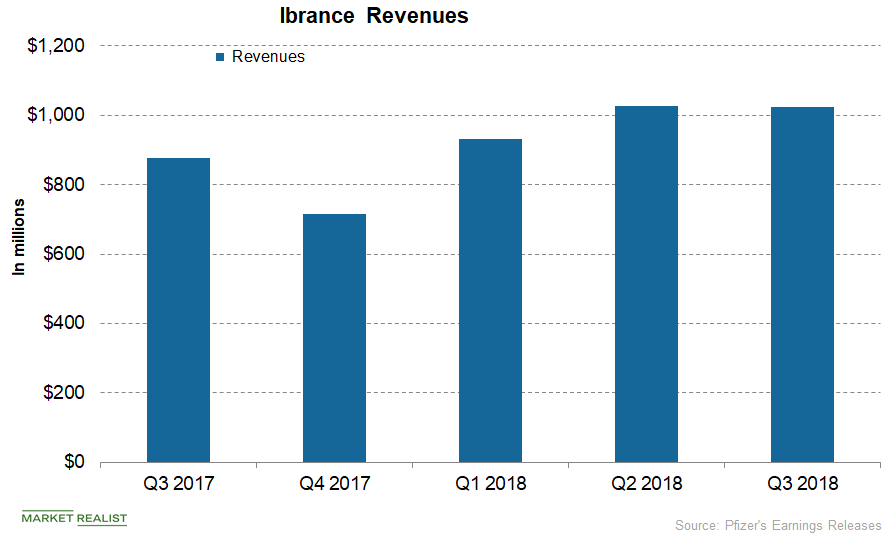 This Drug Is Expected to Be a Significant Driver for Pfizer
By Daniel Collins

Aug. 10 2019, Updated 8:55 a.m. ET
Ibrance revenue
In the first nine months of this year, Pfizer's (PFE) Ibrance revenue grew 24% YoY (year-over-year) to $3.0 billion from $2.4 billion. US Ibrance sales rose ~6% YoY to $2.2 billion from $2.0 billion, and international Ibrance sales grew 123% YoY to $807.0 million from $362.0 million.
In the third quarter, Ibrance revenue grew ~17% YoY to $1.0 billion from $878.0 million. Ibrance recorded ~18% YoY operational growth in the third quarter. In US and international markets, Ibrance revenue fell ~1% YoY to $708.0 million and grew 93% YoY to $317.0 million, respectively. Internationally, Ibrance operations grew ~98% YoY. Ibrance competes with Eli Lilly's (LLY) Verzenio and Novartis's (NVS) Kisqali.
Article continues below advertisement
Recent developments
In October, Pfizer released the overall survival data from its PALOMA-3 trial, which was conducted to evaluate the safety and efficacy of an Ibrance-fulvestrant combination therapy in people with hormone receptor-positive, human-epidermal-growth-factor-receptor 2-negative metastatic breast cancer with disease progression during or after endocrine therapy. The therapy demonstrated significantly improved median progression-free survival, extending it to 11.2 months, compared with 4.6 months in patients receiving a fulvestrant-placebo combination.