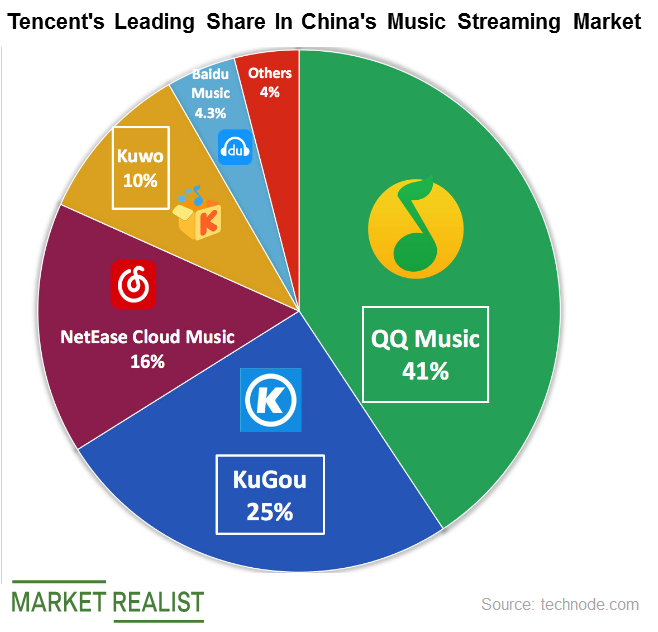 Tencent Music Had a Solid Debut despite Volatile Markets
By Sanmit Amin

Dec. 13 2018, Updated 2:51 p.m. ET
Tencent's stock rose 7.7% on Wednesday
Tencent's (TCEHY) music arm, Tencent Music Entertainment (TME), debuted on the New York Stock Exchange on Wednesday, December 12. The leading Chinese music company raised $1.1 billion, giving it a valuation of ~$21.3 billion. TME had settled for the lower end of the $13 to $15 per share price range.
While TME wasn't able to raise as much money as it would have hoped, it had a strong debut and rose 7.7% to $14.0 on Wednesday. TME went public at a tough time for stocks due to increased volatility in the last couple of months from the uncertainty of the trade war between the US and China. The uncertainty was the reason why TME delayed its IPO in the first place.
Article continues below advertisement
TME is a music streaming giant
TME is the king of the music streaming market in China with a number of apps that let users stream music, sing karaoke, and watch musicians perform live. TME claims that it has a combined 800 million monthly active users, but there is a possibility of double-counting.
TME is the latest Chinese company to go public in the United States. Baidu's (BIDU) streaming unit, iQiyi (IQ), also went public earlier this year. iQiyi, which more than doubled initially, is now trading close to its IPO price. Pinduoduo (PDD), a social shopping app, also debuted in the US this year.