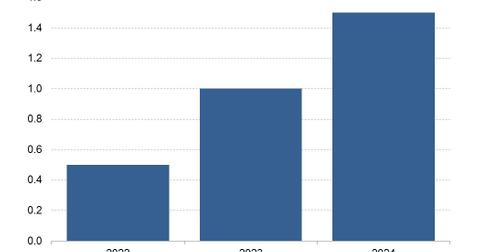 Samsung's Many Ways to Make Money in the 5G Era
By Ruchi Gupta

Updated
Operators ordering phones directly
Samsung (SSNLF) recently won direct 5G smartphone orders from Verizon (VZ) and AT&T (T). The operators say their Samsung-built 5G smartphones will arrive in the first half of 2019. Verizon and AT&T are not alone in placing direct orders with manufacturers for phones that can work with 5G networks they are building. Sprint (S) has also ordered a 5G smartphone from LG Electronics and a 5G-enabled mobile hotspot device from HTC.
Article continues below advertisement
Operators have traditionally waited for manufacturers like Samsung and Apple to bring new phones to the market and then helped with distribution of the products by selling to their subscribers sometimes through installment financing. The arrival of 5G connectivity seems to be changing this tradition. The decisions by operators to place direct orders for specific phone designs with manufacturers seem to show how 5G connectivity is altering some companies' business strategies.
Selling 5G phones and 5G network equipment
Samsung's direct orders from operators for 5G smartphones show its many ways to make money in the 5G era. Samsung sells smartphones under its own brands and it is the world's top smartphone company by unit sales. Now it is receiving direct smartphone orders from operators that look keen to speed up adoption of 5G connectivity.
In addition to selling 5G phones, Samsung is also in the chase for 5G telecom equipment dollars. The company supplied Verizon's initial 5G network projects and has been selected alongside Ericsson (ERIC) and Nokia (NOK) to supply AT&T's 5G projects. AT&T is on pace to launch 5G services in a dozen metro areas in the United States before the year wraps up.
1.5 billion 5G subscribers
An Ericsson study predicts there will be as many as 1.5 billion 5G subscribers globally by the end of 2024.